The appointment of one of the financial services industry's most senior female executives, Alexis George, to salvage the fortunes of the besieged AMP isn't a triumph for the advancement of women in management. She has broken through the glass ceiling but now faces the glass cliff.
The glass cliff phenomenon is used to illustrate the tendency for women to be placed in executive positions in struggling companies where the challenges are immense and the risks of failure are great.
AMP fits the description perfectly.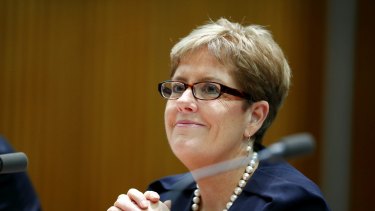 AMP's new CEO Alexis George was well-liked by staff at ANZ where she worked for seven years.Credit:Alex Ellinghausen
George will form a governance duo with AMP chairman Debra Hazelton, who stepped into that role in August 2020 during a board crisis that resulted in the departure of then chairman David Murray and senior director John Fraser.
Hazelton too is perched on the glass cliff.
Ironically, Murray's pressured departure was the result of his approving the promotion of a senior AMP Capital executive, Boe Pahari, despite sexual harassment complaint against the latter.
George will replace Francesco De Ferrari whose departure was announced on Thursday but whose future has been under a cloud for a while. Last week the media reported AMP's board had been secretly planning to replace him. It is understood there had been differences between the board and Ferrari over the company's strategy.
De Ferrari was two years into a three-year turnaround in the middle of which the board sold the company's insurance business and more recently has engaged in three attempts at "strategic transformation", otherwise described by AMP as a "portfolio review".
The first, which failed abysmally, was an attempt to find a buyer for the whole of AMP. One interested party, US investment firm Ares Management, raised its hand only to lower it several months later after completing a look under AMP's hood.
Ares later revealed it was only interested in investing in the private markets businesses inside AMP Capital – initially in a 60/40 joint venture with AMP.
That plan has changed again with Ares now expressing a desire to buy 100 per cent of the private markets business.
And even that deal has no certainty on terms or completion. Ares appears to have been stringing the board along now for seven months.
There is no guarantee the process of selling AMP Capital or any part of it will be complete by the time George arrives later in the year.
But she will have a clear mandate that her job is to revive AMP's wealth business which has struggled since the financial service advice model was blown up following the royal commission into financial services.
It is a task with which De Ferrari has struggled as he waded through the process of remediation of customers who required compensation for years of poor advice.
AMP's wealth management profit tumbled by 43 per cent in the year to December 2020 while its funds under management fell 8 per cent – an outcome that was also impacted by COVID.
De Ferrari was appointed to AMP in 2018 with great fanfare and hailed as its saviour. History now tells a different story.
George's appointment is similarly headlined and the market greeted the news by bumping up AMP's share price by more than 5 per cent.
Unlike De Ferrari, George is a well-known commodity in financial services. Having been Shayne Elliott's deputy chief executive at ANZ, she is well respected as a very capable executive and a safe pair of hands.
Despite being in a high-profile position at ANZ the market did not consider her an internal contender to take the top job at the bank.
George is also eligible for a sign-on award of about $4 million, but only $1 million of this (which relates to staying in the job for three years) will be an easy earn.
While George, who is renowned for her people skills, did a stint at the helm of ANZ's wealth management operations, her primary role was to manage the division's sale.
The task at AMP will be more fraught but George will not receive the same level of remuneration as De Ferrari. His base pay for 2021 was to be $2.2 million with the potential to get twice that amount in short-term bonuses if performance hurdles were reached and an additional $2.2 million long-term bonus based on performance.
George will start on a base pay of $1.7 million and could receive up to 200 per cent of this as a short-term bonus and up to 100 per cent of this as a long-term incentive – both of which are subject to performance.
She is also eligible for a sign-on award of about $4 million, but only $1 million of this (which relates to staying in the job for three years) will be an easy earn.
The largest element of the sign-on package – $2.2 million – will require AMP to outperform a basket of large financial services companies in terms of total shareholder returns – which takes into account the share price movement and dividends.
Given AMP has underperformed most large financial services companies over the past couple of years, this could be something of a Herculean task.
Most Viewed in Business
From our partners
Source: Read Full Article