Crown Resorts staff feared speaking up about bad behaviour and probity issues because they believed the casino giant's management would punish them rather than act on their concerns.
Victoria's royal commission into Crown heard on Wednesday that the James Packer-backed group commissioned Deloitte to run a review of its corporate culture in August last year, just as damning revelations started to emerge from the Bergin inquiry in NSW.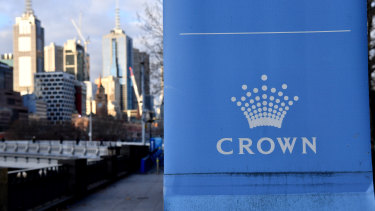 Crown staff were afraid to speak up about probity issues, the commission heard. Credit:Joe Armao
Deloitte partner Victoria Whitaker said Crown's then-chief executive, Ken Barton, told her there was a "fear around speaking up and communicating bad news" at Crown which was potentially due to a fear of "adverse consequences".
That was backed up by interviews with Crown's head of human resources, Alicia Gleeson, and a review of internal staff surveys, Ms Whitaker said, which also revealed "a sense of complacency" about escalating concerns because staff did not believe the company would act.
Counsel assisting the inquiry Penny Neskovcin, QC, put to Ms Whitaker that the list of preliminary cultural problems she found "paint a pretty grim picture of how Crown's culture is perceived by senior individuals within the organisation".
"What you've just listed does paint a pretty grim picture, yes," Ms Whitaker said.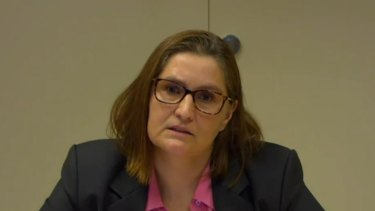 Crown's chief risk officer Anne Siegers giving evidence to the commission on Wednesday.
Mr Barton resigned in February after being criticised heavily in the NSW inquiry. That probe ruled Crown unfit to run its new Sydney casino and found that serious problems with Crown's corporate culture led to failures in preventing criminal infiltration at its Melbourne and Perth casinos.
Ms Whitaker said Deloitte's effort to identify a list of cultural issues was ongoing, while noting there had been a significant overhaul of senior management and directors at Crown.
The inquiry also heard on Wednesday that Crown restricted a 2019 Deloitte review of its risk management framework to a "desktop" assessment that only considered whether it included elements typically found in such corporate documents, and did not examine whether it was effective or suitable for a casino.
That was despite Victoria's gambling regulator ordering Crown, as part of its 2018 licence review, to "assess the robustness and effectiveness of its risk framework and systems" with external help, after 19 Crown staff were arrested in China on gambling crimes two year earlier.
Crown's chief risk officer, Anne Siegers, said the company limited the review because she was still piecing together elements of a new risk framework at the time. Ms Siegers said she understood how the company operated better, and could do the assessment herself.
"Did you considering going back to the [Victorian regulator] to discuss the fact you could not meet all their requirements?" Ms Neskovcin asked.
"No," Ms Siegers responded. "I honestly thought that I could deliver … a review of all the elements that they were asking us to review."
Counsel assisting Meg O'Sullivan told the inquiry last month that Crown had shown a pattern of deliberately restricting external reviews of its operations, which were often commissioned to satisfy its regulator. The inquiry continues on Thursday.
The Business Briefing newsletter delivers major stories, exclusive coverage and expert opinion. Sign up to get it every weekday morning.
Most Viewed in Business
From our partners
Source: Read Full Article