Local share trading platform and IPO prospect Superhero will let users buy and sell US shares as the appetite of younger Australians to play the stock market continues to grow.
Superhero, a fintech which facilitates the buying and selling of shares with zero brokerage fees, has partnered with US clearing house Apex and exchange operator Nasdaq to let users trade and receive market data on securities in the country.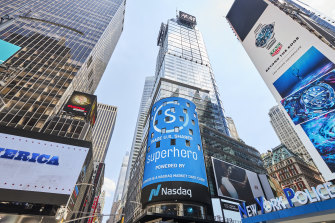 Australian share trading app Superhero has launched US share trading.
John Winters, Superhero's chief executive, told The Age and The Sydney Morning Herald his company had built the functionality into the platform in just a few months as interest in local and international share trading continues to increase off the back of the pandemic.
"There's been consistent growth in demand and interest," he said. "People are turning to shares more and more and its broadening throughout society. It's not just the wealthy looking at this anymore, it's everyone."
Interest in investing from everyday 'retail' investors has boomed during COVID-19 as locked-down individuals look for places to spend their government stimulus checks. Armies of online investors on forums such as Reddit have also captured attention after their campaigns to crush hedge funds by boosting shares of struggling companies like Gamestop and AMC Entertainment.
Research undertaken by Superhero shows nearly four in five Australians under the age of 45 believe home ownership is out of their reach, with many turning instead to investing in shares. Nearly 75 per cent of people in that age bracket either already own or are interested in owning shares.
The short squeeze of Gamestop, which was executed by retail investors, also helped entice people to invest in shares, Mr Winters said, though the executive warned those hopeful of replicating such a surge would have "more chance of winning the lottery".
"Australian investors are more risk averse than what we see in the US, we take a more conservative approach," he said. Users often start out by buying a basket of ETFs along with some individual shares, he says, before investing in any growth stocks.
"They're not willing to take large, specific, risky investments on board," he said.
Share trading platforms such as Superhero have been under scrutiny in the months following the Gamestop saga, most notably Robinhood, a US platform which was a popular choice for users looking to trade the stock.
Last week the company announced it would pay a $93 million fine to US regulators over giving customers misleading information and allowing some users to make overly risky trades. It is also facing more than 50 lawsuits regarding its choice to limit users' ability to buy and sell Gamestop while it was booming earlier this year.
Mr Winters said Superhero has no intention of ever implementing unneccessary trading halts on various shares. "I don't believe anyone should be limiting people from what they can and can't invest in," he said.
The Market Recap newsletter is a wrap of the day's trading. Get it each weekday afternoon.
Most Viewed in Business
From our partners
Source: Read Full Article