Colourful soccer personality Bill Papas had aspirations to list waste management company Iugis on the ASX and expand globally before the business was embroiled in an alleged $400 million fraud.
Iugis is one of the many companies in Mr Papas' business empire that has now been split up and sold off by liquidators, following explosive allegations it is exposed to an elaborate scheme which used forged signatures to obtain hundreds of millions of dollars in bank loans.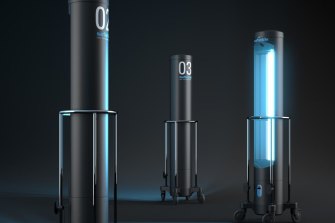 Iugis also partnered with US-based Surfacide to sell machines that claimed to kill COVID-19.Credit:Instagram
The company, which had offices in England and Australia, sells machines that promise to convert food scraps into water, with notable customers including Liverpool Football Club, Woolworths, Coles, Harris Farm and Melbourne's high-end restaurant Longrain.
Multiple former business associates of Mr Papas said his plan was to grow Iugis "as quickly as possible" in preparation for expansion in Europe and the Middle East and an ASX listing. Sales staff were encouraged to do "whatever the customer wanted", including offering free installation and maintenance of the machines.
The Age and Herald can also reveal Iugis relied heavily on a relationship with multinational Veolia and had to pour resources into modifying the machines to comply with local water regulations and health and safety standards.
Multiple sources said Iugis paid Veolia for access to its customer network and at least two staff worked across the companies.
A Veolia slideshow from 2019, obtained by this masthead, shows the French-headquartered company promoting Iugis' technology to prospective customers. "It's with yesterday's old that we build a new tomorrow," the presentation said, signed by an individual whose LinkedIn shows employment at both Veolia and Iugis.
Veolia is listed in Westpac's affadavit as a victim of the broader Forum Finance fraud and a spokeswoman said no staff worked in Iugis while they were employed by Veolia. "Veolia did not have a 'partnership' of any sort with Iugis. Veolia had distribution agreements in place which was the limit of the exchange of customer listings," the spokeswoman said.
Iugis' listing plans were delayed after COVID-19 hit and shut down restaurants around the world, including key markets in Australia and the UK. But multiple former Iugis staff say the pressure to sell the machines to the cash-strapped hospitality industry did not stop.
"I was getting my ass kicked for not making enough sales during lockdown," said one former Iugis employee in Australia. "They would say, 'just get the contract'."
The most recent financial records of Iugis's UK company, also founded by Mr Papas, show it made a loss of £2.7 million ($5.1 million) as of April 2020, up from £1.03 million the previous year. Auditors raised concerns around the impact of the pandemic but said the company had sought to diversify its operations.
Iugis launched a new partnership with US-based firm "Surfacide" last May to sell "proven Coronavirus killing technology" that used UV rays to "reduce acquired infections by 99.9999%" to Australian businesses.
Sydney businessman Matt Ingram is listed as the director of another Iugis entity in the UK but resigned on July 10 after Mr Papas and his company Forum Finance were sued by Westpac, the largest victim of the alleged fraud to date.
Mr Ingram was not available for interview but hired strategic communications firm Sefiani to provide details of his employment with the group, including his introduction to Mr Papas in 2018 by a mutual contact.
Mr Ingram was the Commonwealth Bank's general manager for structured asset finance from 1997 to 2005, and later worked as Investec Bank of Australia's head of asset financing and leasing. More recently, Mr Ingram was the chief operating officer for Thorn Group, another victim of the alleged fraud.
Drawing on his experience in asset finance, Mr Ingram established a separate UK entity, Iugis Global Financial Services, to protect the intellectual property he was building to offer small-scale asset finance to sell Iugis machines. This company was dormant and did not have any involvement with Forum Finance, according to Sefiani.
Most Viewed in Business
From our partners
Source: Read Full Article