The government along with companies like Adani Total Gas, IOC and BPCL have billions of dollars riding on gas as demand for oil continues to drop, to be eventually replaced by gas, hydrogen and renewables.
S Dinakar reports.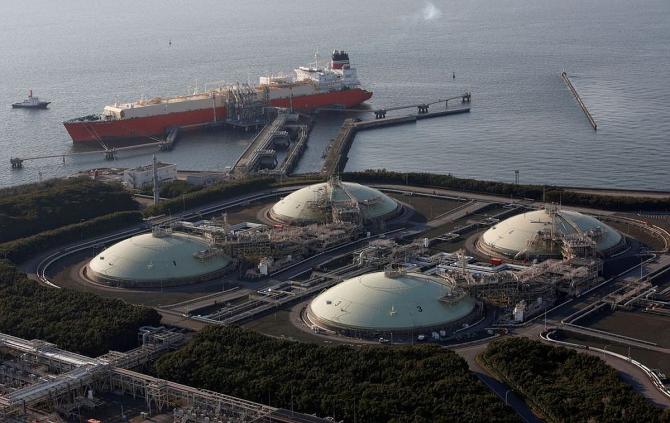 Around 15 years ago, when Reliance Industries (RIL) struck natural gas in the Krishna-Godavari (KG) basin off the east coast, the government made plans to supply that fuel cheaply to scores of generators that sprang up in India triggered by the discovery.
Most of the plants, which account for 6 per cent of India's total generation capacity, operate sparsely after the KG-D6 area first failed to meet production targets, and then finally shut shop.
Affordable domestic gas was why those thermal plants came up and the rate of the fuel today is why those generators hardly operate.
Record liquefied natural gas (LNG) rates may yet again unravel India's ambitions to expand use of gas in industries, households and vehicles.
Rates, while volatile, may stay strong this decade as developed nations with higher purchasing power embrace gas as the transition fuel.
India may have to review its gas plans if LNG prices continue to stay at high levels, said Tarun Kapoor, secretary, ministry of petroleum, at a recent event, reflecting how high rates have started to bother the bureaucracy, tasked to meet Prime Minister Narendra Modi's targets to more than double the use of gas in the country's energy mix by 2030.
It's not viable to buy spot cargoes that oscillate between $26 and $56 per million British Thermal Units (mBtu) with sharp swings, Akshay Kumar Singh, CEO of Petronet LNG, said at a recent event.
Two of Petronet's customers in Mangaluru, including state-controlled refiner MRPL have stopped taking LNG from the 5-million tonnes a year (mn t/yr) Kochi LNG import facility because of high spot rates hurting terminal use.
The Argus India front-half month delivered ex-ship price rose above $10 per mBtu in early June and has remained consistently above that level since then.
It is now at $35 per mBtu with transport costs surging over five-fold to more than $310,000 a day.
LNG delivered at $8-10 per mBtu maximum is manageable, a Petronet official said.
Anything above that encourages Indian customers to seek alternative fuels.
Deliveries to India kept lower than a year earlier since June, and declined to a 33-month low at 1.61 million tonnes (mn t) in November, according to ship tracking figures from oil analytics firm Vortexa.
Imports of LNG cost $900 million for 22 per cent less fuel in October compared with $700 million a year earlier.
Unprecedented gains in European gas hub prices and high storage by Asian buyers have sparked gains in Asian spot LNG prices this year, a trend that may continue given growing demand for the fuel from developed and developing nations.
COP26 has further queered the pitch as Europe and China turn to gas as the transition fuel for the switch to clean energy forms.
Countries in Europe are lobbying the European Union to classify gas as a green fuel.
A spike in gas use in the coming decade will only lead to LNG prices staying strong.
Domestic gas prices are much lower than LNG rates as they are controlled by the government.
But local supplies can meet less than a quarter of the demand if India manages to even get close to a 10 per cent target.
Long-term contracts are the only solution to volatile spot LNG prices, Singh said, but given a rush for gas even term contracts can be expensive.
Taxes and transport send domestic gas prices higher.
The weighted average price of domestic gas and imported LNG in 2019 was around $6 per mBtu, which doubled after adding taxes, transport costs and margins.
Rates range between $6 and $18 per mBtu, comparable in absolute terms to Europe but much higher after adjusting for India's lower purchasing power, the Paris-based International Energy Agency (IEA) said in its India Energy Outlook.
"The case for gas on straight grounds is much less compelling in many parts of the Indian economy," the IEA said.
"With today's regulatory framework, economics alone does not make the case for India."
There is no future for gas-fired generators in the country and the State Bank of India (SBI) may have to write off its investments in the sector because the plants were built on the premise of cheap gas from KG basin, former SBI chairman Rajnish Kumar said in a parliamentary report.
The country can ill afford even a partial write-off for the entire gas sector because India is halfway through completing a pipeline infrastructure, and the usage of gas depends on how much customers are willing to pay in absence of subsidies.
The government along with companies like Adani Total Gas, IOC and BPCL have billions of dollars riding on gas as demand for oil continues to drop, to be eventually replaced by gas, hydrogen and renewables.
New Delhi is expecting investments of $66 billion to develop gas infrastructure, including pipelines, city gas distribution and LNG regasification terminals.
New Delhi has leaned on India's energy sector to boost public investments to generate GDP and jobs as private consumption and capital investments dried.
Modi is also betting that building a national gas grid and city gas network by 2023, ahead of federal elections, will bolster the incumbent Bharatiya Janata Party's chances of winning.
A similar strategy paid off in 2019, with the doubling of subsidised LPG access to rural households.
But even if LNG becomes affordable, at best, India can manage to expand gas use to around 10 per cent of its energy mix because of lack of adequate infrastructure and consumption.
The IEA expects the share of gas in India's energy mix at just 12 per cent in 2040 with import dependency rising to 69 per cent of demand from 50 per cent in 2019.
Demand for the fuel is growing at a slower rate, Petronet said, with current growth rates only around 53 per cent of levels required for the country to meet a 15 per cent gas use target.
Gas demand by 2030 will only reach 326 million cubic metres a day (mn m³/d) at current 4-5 per cent growth rates, much lower than the 611 mn m³/d of consumption needed to meet the 15 per cent energy mix goal.
The IEA has forecast India's gas use at 360mn m³/d by 2030.
Petronet projects that India will need a combined 80-90 mn t/yr equivalent of domestic and imported gas by 2030 to meet 326 mn m³/d of gas use by 2030.
Domestic output will average around 35 mn t/yr of equivalent imported LNG by 2030.
Source: Read Full Article