James Hardie Industries' recently fired chief executive, Jack Truong, says he "unequivocally" rejects the building materials giant's claim that he bullied and intimidated colleagues.
The $23 billion ASX-listed group on Friday sacked Mr Truong over what it said was his "intimidating, threatening" and disrespectful behaviour which created a hostile work environment and prompted complaints from staff.
The company also stripped Mr Truong of entitlements including his long-term bonus.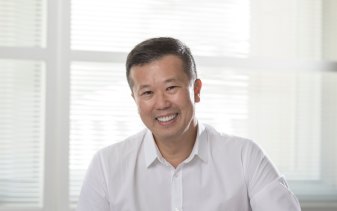 James Hardie CEO Jack Truong.
Chairman Mike Hammes said on Friday the company gave Mr Truong the opportunity to change his management style, but this did not occur, and that his actions were a material breach of James Hardie's code of conduct.
But Mr Truong disputed the allegations in a brief statement released on Monday morning. "I was blindsided by the termination and unequivocally reject the assertions made by Mr Hammes and the company," he said.
Mr Truong said that since his appointment as CEO in February 2019, the group had "exceeded all expectations" in transforming the company, delivering substantial sales and profit growth while its share price more than tripled.
"I'm equally proud of the progress we made in building a culture of inclusion and respect with our more than 5000 devoted employees," he said. "Based on employee and customer feedback, it was clear that they recognised our progress."
A spokesman for James Hardie on Monday reiterated that the company's board provided "clear feedback and counselling on the impact that Mr Truong's behaviours were having on his colleagues on multiple occasions".
"The board ultimately had to make the difficult decision to terminate Mr Truong's employment," the spokesman said. "This decision was in the best interests of the company, its people and the delivery of its strategy."
RBC Capital Markets analyst Paul Quinn said he had "never seen something like this" but appreciated the board's "decisive action". He said investors were focused on whether Mr Truong's allegedly aggressive style had "enabled the impressive financial performance".
"Several executives that were at risk of leaving previously have now indicated that they will stay given the ongoing changes," Mr Quinn said in a note to clients. "This reduces the risk of a mass exodus from the company's leadership ranks and hopefully indicates potential for a repair of whatever damage has been done."
Mr Hammes, the chairman, said during an analyst call on Friday that he had spoken to Mr Truong about his behaviour and provided support for him to make "sincere change" to his management style.
"But based upon additional employee concerns raised… it was clear that sincere change did not occur," Mr Hammes said. "We, unfortunately, came to the conclusion he was not either able or willing to change."
Mr Hammes said that two surveys of about 40 people working under Mr Truong found that his behaviour was "intimidating, threatening and not respectful of the individual".
About 80 per cent of those surveyed conveyed those concerns, he said, while several executives told the board they were preparing to or considering resigning as a direct result of Mr Truong's behaviour.
James Hardie shares fell as much as 11 per cent on Friday before closing 4.1 per cent lower at $51.54, wiping about $1 billion from its market value. The stock fell another 1.2 per cent on Monday to close at $50.90.
The falls are despite the company upgrading its net earnings guidance for the year ending in March from an upper range of $US600 million ($835 million) to an upper range of $US625 million ($870 million).
Mr Truong's sacking follows the departure of CEOs from ASX-listed groups Oil Search, Cleanaway and Polynovo in the past year after concerns were raised internally about their management style.
Most Viewed in Business
From our partners
Source: Read Full Article