Dairy and food giant Bega Cheese posted a major lift in profits for the first half of the financial year, but significant disruptions from the Omicron variant weighed on the business.
The ASX-listed food producer announced a 29 per cent increase in net profits to $28 million in the six months to 26 December 2021, driven by a double-digit increase in demand for its alternative milk brand Vitasoy.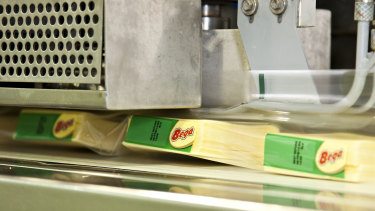 Bega Cheese has posted a strong profit lift in its half-year results.
Statutory earnings before tax, interest, depreciation and amortisation (EBITDA) also climbed by 47.7 per cent to $97.2 million during this period. Revenue more than doubled, climbing 113 per cent to $1.51 billion.
However, the company said COVID-related disruptions had cost the business' bottom line more than $20 million.
In December, Bega issued a sour trading update outlining headwinds to its bottom line that saw shares tank as a result.
Global supply chain issues in the first quarter led to higher prices for material such as fuel, packaging, coffee and resin, while suppliers that didn't meet their delivery times created higher operational costs for the company.
Meanwhile, the Omicron wave that hit in the second quarter saw local supply chains upended and "significant absenteeism" across Bega's workforce, which also led to "large cost increases". Lockdowns also meant that cafes and restaurants were shut or saw lower levels of foot traffic. Bega also had to shoulder direct costs for items such as rapid antigen tests, personal protective equipment deep cleaning.
Among Bega's broad portfolio, its plant-based milk category (consisting of the singular brand of Vitasoy) grew the most, at 12 per cent to $390 million.
Meanwhile, demand for water ice products, such as Zooper Doopers and Berri, slid backwards by 10.3 per cent.
Looking ahead, the business is focused on projects across its yoghurt, nutritionals and white milk categories and on improving supply chain efficiencies.
"Priorities for the business in the short term are strongly focused on managing the impacts of COVID-19 in the third quarter and being well-positioned for an expected recovery in the fourth quarter and beyond," Bega Cheese said in a statement.
The company will pay an interim fully franked dividend of 5.5 cents per share on 24 March.
The Market Recap newsletter is a wrap of the day's trading. Get it each weekday afternoon.
Most Viewed in Business
From our partners
Source: Read Full Article