The country's largest superannuation fund, AustralianSuper, has committed to divest its remaining Russian assets after the federal government called on the $3.5 trillion sector to divest and condemn the Kremlin's invasion of Ukraine.
A spokesman for AustralianSuper said the fund had reduced its exposure to Russia by around two-thirds since last June and these assets now make up only 0.07 per cent, or $180 million, of the fund's total $260 billion.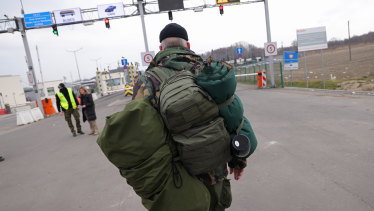 Australian super funds are walking away from their Russian assets after pressure from the government.Credit:Getty
"AustralianSuper is deeply concerned about the events unfolding in Ukraine," a spokesman said. "We will continue winding down the remaining exposure to divest our holdings in Russia as markets permit."
The fund has declined to respond to questions about its exposure to Russia over the course of the week, with disclosures from June showing it had stakes in major Russian companies including Gazprom, Sberbank and Lukoil, and Russian Federation bonds.
The spokesman said AustralianSuper "is in full compliance with all relevant sanctions, and in accordance with our portfolio management approach, has been actively managing our exposure to Russian assets to address changing and emerging risks".
A number of AustralianSuper members contacted the fund to complain about its investment in Russia, as the conflict with Ukraine intensifies. "I plan to move my money if they don't act this week," one member told this masthead.
Hostplus chief executive David Elia also released a statement on Friday, committing to fully divest the remaining $10 million worth of Russian assets, which had been reduced from $19 million this week.
"The unfolding conflict in the Ukraine is deeply concerning and our thoughts are with those affected by this distressing situation," Mr Elia said. "We certainly feel for the Ukrainian people and the terrible situation they're facing and believe this is the right thing to do."
The statements from both funds come after Treasurer Josh Frydenberg and Superannuation Minister Jame Hume outlined the government's "strong expectation" super funds would divest from Russia on Thursday evening.
However, the Moscow stock exchange remains closed and the Russian government introduced new laws this week that ban foreigners from selling assets, making it difficult for investors to divest.
Rainmaker research director Alex Dunnin said the super sector had negligible exposure to Russian assets but members were entitled to know how the funds are being handled.
Mr Dunnin said the Russian assets will likely have to be retained until markets reopen, adding moves to divest or sell these shares were symbolic and responding to member concerns.
"It's hard to say what the practicality is yet [for divesting]. But they know this is an issue that's really upsetting people," Mr Dunnin said.
The federal government's pressure on super funds comes after new laws were introduced last year to force them to act only in the financial interests of members. The sharpened "best interests" duty followed criticism the super industry had acted politically by divesting from thermal coal and other fossil fuel assets.
The industry regulator, Australian Prudential Regulation Authority, said on Thursday it would not take action against super funds that divest from Russia following the government's statement.
Mr Dunnin said it was "bemusing" that the government was now calling on the super sector to advance its political interests. "Isn't national security the supreme members' best interest? It's good they've finally joined the dots," he said.
"Money is a pretty brutal weapon and it sounds like we're deploying that weapon pretty effectively at the moment looking at the indicators of the Russian economy. It's getting as close as you can to failed nation status and it's happening fast."
The Market Recap newsletter is a wrap of the day's trading. Get it each weekday afternoon.
Most Viewed in Business
From our partners
Source: Read Full Article