Booming bike sales are leading to year-long delays for high-end cyclists as a peloton of new pandemic-inspired riders and global disruption stretches supply chains.
When the pandemic hit, sales shot up 40 per cent at Jack Lidgett's Ashburton Cycles shop in Melbourne.
Jack Lidgett at Ashburton Cycles.Credit:Penny Stephens
"Despite all the difficulties in keeping the doors open and maintaining staff levels, customer demand increased dramatically. It was the best year for the industry in two decades," he said.
Lockdowns, quiet roads, a desire to avoid public transport and exercise locally, drove bike sales. More recently, spiking petrol prices have become a factor.
Bike Industry Australia's (BIA) general manager Peter Bourke said he recently called three bike stores to ask about fuel prices. "Every single person coming into the shop mentions petrol," he said.
Figures from BIA show wholesalers imported 1.1 million bikes over the year to June 2020. A year later, the riding craze resulted in 1.7 million being shipped into the country.
While the arrival of bike-loaded containers has slowed marginally, they are still well above pre-pandemic levels, Mr Bourke said.
Customers used to be able to walk in and order a bike on a Monday and pick it up on Friday. Now the next available shipment is in five months.
That won't appease avid cyclists waiting for a favourite model.
"There is still a huge amount of bikes on back order. There is still demand for bikes and there is a long lag in getting bikes into the country," he said.
Jamie Walsh, from bike wholesaler Global Fitness & Leisure, said at the start of the pandemic there was a shortage of all types of bikes.
"We went from lead times of 60–90 days to 400-500 days," he said.
Now, the comparatively late arrival of multiple shipments means there is a glut of entry-level bikes costing less than $1000. That means there are plenty of children's and lower end bikes being sold at big box retailers such as Kmart, Big W, Toy World, Amazon and Aldi which, by some estimates, account for half of bike sales in Australia.
But manufacturers of more costly, higher-end brands, haven't kept up with demand. "If we do an order today for some Shimano products, the lead time is 420 days," Mr Walsh said.
Prices are also rising, driven mainly by rocketing shipping charges. "The inflation cost of shipping goods has gone up dramatically in last two years," Mr Walsh said.
Before the pandemic it cost around $15 to ship each bike, now sea freight has blown out to $60. For a child's bike that is nearly a third of the cost, he said.
Yaniv Shahar, sales manager at Happy Wheels Bicycle Shop in Sydney's Waterloo which trades mainly in higher-end road and triathlon bikes, describes the last two and half years as "pretty mad."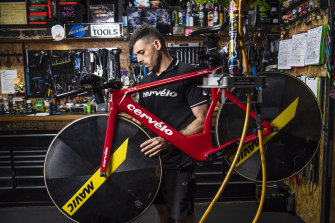 Sales manager Yaniv Shahar in the Happy Wheels Bicycle store.Credit:Louise Kennerley
"Customers used to be able to walk in and order a bike on a Monday and pick it up on Friday. Now the next available shipment is in five months," Mr Shahar said.
There's an even longer delay, up to 18 months, for some models and spare parts. "We have no idea when it will get back on track."
Graeme Moffett, from Pon.Bike Australia which imports Cannondale, Cervélo, FOCUS, and German-made Kalkhoff e-bikes, said Australia was being impacted by a global shortage of bikes and spare parts. "If it's a road or gravel bike, we just can't get enough," he said.
As Europeans and Americans head into the northern summer, they will purchase more bikes. "That will impact supply into Australia for the next six to 12 months," he said.
Demand for e-bikes is also growing. "They have grown to be more than 50 per cent of our business. It's now a significant proportion of what we do."
Jake Southall, who owns eight Sydney Electric Bikes stores, said e-bike sales aren't necessarily growing at the expense of normal bikes. "A lot of people who don't ride normal bikes are getting e-bikes. They just wouldn't ride a normal bike," he said.
Metrocount, a firm that specialises in monitoring bike traffic for local government, estimates cycling activity has jumped 69 per cent compared to pre-COVID levels.
E-scooter use is also rising dramatically. Metrocount's sites recorded nearly three times the use of e-scooters in 2020 compared to 2019.
Cargo bikes are also more popular, their use rising nearly 50 per cent in areas where leisure cycling is common.
The Business Briefing newsletter delivers major stories, exclusive coverage and expert opinion. Sign up to get it every weekday morning.
Most Viewed in Business
From our partners
Source: Read Full Article