The corporate regulator says predatory lending in Australia is endemic and changes to traditional banking, combined with the rise of buy-now-pay-later (BNPL) services, have created rising risks for financially disadvantaged people.
The Australian Securities and Investments Commission (ASIC) on Tuesday launched legal action against two companies, Rent4Keeps and Layaway Depot, for allegedly disguising loans as lease contracts for white goods.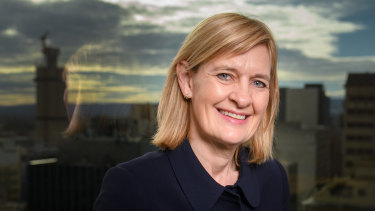 ASIC deputy chair Sarah Court says predatory lending is endemic in Australia.Credit:AFR
The regulator will allege these companies breached consumer protection laws by developing business models that avoided obligations on credit providers, including the 48 per cent annual cost cap, to extort low-income earners out of enormous sums.
The court filing references one customer who used Centrelink payments to pay almost $2,500 for a fridge which retailed at $365 after entering a "lease" arrangement. ASIC deputy chair Sarah Court these practices have enormous impact on vulnerable Australians.
"Sadly, we see predatory lending on a continuing basis," she said. "It's an endemic problem."
Australia's lending market has undergone a period of rapid change in recent years, starting with the banking royal commission that ensured better adherence to responsible lending laws and the emergence of BNPL providers that have cannibalised the credit card market.
Court said traditional lenders had become increasingly conservative with lending following the royal commission, which has created opportunities for non-bank lenders to take up customers who are turned away.
"There are such a preponderance of ways to obtain loans and finance now, both online and through new entrants."
ASIC launched the legal action after information from consumer groups, Court said, who saw these companies were targeting financially vulnerable people by providing limited transparency around the cost of the lease arrangements.
Australia's BNPL industry has also attracted the ire of consumer groups for escaping consumer protection obligations credit card providers must adhere to. Court confirmed Australians face financial difficulty through BNPL but said this sector, on the whole, was more transparent with its terms.
"We know there are many consumers who are getting themselves in financial difficulty by having a large number of buy now, pay later arrangements and certainly, they can contribute to financial serious situations. But we don't say that buy now, pay later is predatory or preys on vulnerable to any significant degree."
The Age and Sydney Morning Herald have previously reported that National Australia Bank has reintroduced dollar value-linked sales targets amid an internal push to drive up personal loans. Court said financial incentives that increase credit sales are concerning for regulators, though added some bonus structures are not problematic.
"The line is making sure you are not misleading customers or potential consumers when you are trying to encourage them to sign up or purchase products or enter into your particular financial arrangement," she said.
"It's making sure that any kind of statements, interactions, representations, promotional materials and the like are not misleading."
Court hopes ASIC's lawsuit will send a signal to businesses seeking to evade credit provisions and consumer protections, in an effort to stamp out predatory lending. "It really can be quite significant for consumers."
The Market Recap newsletter is a wrap of the day's trading. Get it each weekday afternoon.
Most Viewed in Business
From our partners
Source: Read Full Article