Melbourne coffee lovers face further price hikes for their daily brew as volatility in the international bean market and other cost pressures push the price of a regular flat white towards $6 in some parts of the city.
A cafe industry group said prices of between $5 and $6 will be commonplace in Australia's big cities by the end of the year as rising cost pressures, including transport, containers and other ingredients are increasingly passed on to consumers.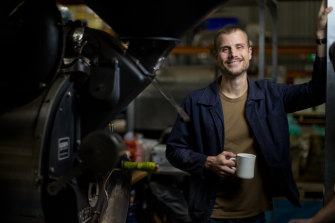 St Ali Coffee Roasters general manager Lachlan Ward says the price of a cup of coffee will continue to rise.Credit:Simon Schluter
Brazil is by far the world's largest coffee bean grower and it has been hit by severe drought followed by damaging frosts, causing production to fall by an estimated 30 per cent. In Columbia, the third largest producer, the La Nina weather pattern has reduced crop yields by at least 10 per cent.
The world benchmark price index for arabica coffee, the Coffee C contract, has doubled since early 2021 to about $US2.40 ($3.25) per pound, pushing up the price Australian pay for their "green beans" by 100 per cent.
The Brazilian production problems are particularly bad news for consumers in Australia, where the South American country's beans are used in most blends of espresso on the market, according to Cafe Owners and Barista's Association of Australia president David Parnham.
Parnham said cafes had for years hesitated to pass on spiralling cost to customers and price rises were long overdue.
"[A flat white] had been around that $4 price forever, about four or five years" he told The Age.
"That price was a ceiling. If you went above that you were seen as being an expensive cafe. Now we're seeing a $5 dollar ceiling and $6 by the end of the year, I think is likely.
"I think it's because cafe owners had been very scared to move prices because of COVID. They're worried about losing customers, but they've been absorbing these prices, both domestically and overseas, for a long time.
"Shipping has gone up five-fold and coffee comes from remote places."
St Ali Coffee Roasters general manager Lachlan Ward said he too believed that this hesitancy to pass on cost increases, even as prices for many other everyday items increased, was coming to an end.
"For whatever reason, cafe owners, operators and coffee businesses are reluctant to put up their prices, even when everything else is rising around them, which is a strange phenomenon, but it does exist," Ward said.
"We're now encouraging our wholesale customers, the cafe owners that we supply coffee to, to put up their prices by 10 per cent plus because, realistically, that's where it should be. Everything else is going up for them; occupancy wages, utilities, everything. There's no reason why they shouldn't be passing that on to the customer."
Jason Hart, who has operated his coffee cart business for 12 years said his operation, with its specialisation in corporate hospitality, had so far been spared much of the price pressure being felt elsewhere in the sector, but warned that Melburnians would have to get used to paying a little more for their daily brew.
"We're a little bit padded from all of that, I guess," Hart said.
"But … anyone in retail is probably a little bit more touchy and [will] have to adjust more quickly to the changes."
A cultural guide to going out and loving your city. Sign up to our Culture Fix newsletter here.
Most Viewed in Business
From our partners
Source: Read Full Article