She would no doubt have learned from her experiences, taken strength from overcoming gender stereotypes, suffered from rejection by traditional hierarchies, and yet somehow managed to bring the world together in celebration of inclusiveness by the end of season one.
A few princess-obsessed under-10s will, just possibly, be distraught that Pearl, the animated adventure series that was meant to be the first product to emerge from the Duchess of Sussex's mega-deal with Netflix, has been scrapped before it even got into production. Everyone else will probably be relieved, and get back to watching Sienna Miller furiously glower her way through Westminster in Anatomy of a Scandal.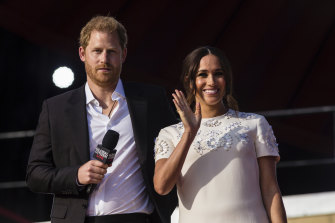 The image of the Sussexes as global media and tech moguls is increasingly hard to sustain.Credit:AP
But a closer look suggests the tectonic plates might be shifting. Pearl may have been a hopelessly tragic idea for a series. But Meghan's cancellation comes right on the back of Spotify's decision to quietly shuffle Michelle and Barack Obama off its roster of high-profile podcasters.
A coincidence? Not really. In truth, the streaming giants, like much of the rest of the media establishment, are starting to work out that sanctimonious woke programming doesn't pull in the viewers. It was easy enough to hide that during a credit bubble but now that cash is starting to get tighter it is becoming far, far harder. Market forces are finally starting to re-assert themselves – and preachy, dull-as-ditchwater shows should thankfully be consigned to the past.
The image of the Sussexes as global media and tech moguls is increasingly hard to sustain. The SussexRoyal brand, with plans for baby clothes and wellness courses, was quietly dropped in 2020 after they ceased to be working royals.
Prince Harry is still chief impact officer at the coaching start-up BetterUp, but it seems that his impact may not be all that everyone hoped: there were reports last week of coaches and staff rebelling over cuts to their terms and conditions, which suggests that clients may not be finding its platforms for "care customised to meet each person's individual needs across the entire well-being spectrum" quite as critical as hoped.
However, it was the couple's Archewell Productions that promised to be the real money-spinner, producing a range of programming for Netflix and Spotify. The trouble is not much has emerged. An upcoming documentary on the Invictus Games may finally reach the screen. But the children's shows, of which Pearl was meant to be the first, appear to be in question.
It is not just Meghan. Last month it emerged that Michelle and Barack Obama were ending their multimillion-dollar deal with Spotify. Barack's blokey chats with Bruce Springsteen were entertaining enough, but the rest of the planned output was an exercise in self-indulgent sermonising of the sort that sends listeners' search for the shuffle button. Meanwhile, there is not much sign yet of a second season of Gwyneth Paltrow's The Goop Lab on Netflix after the first one led to cancelled subscriptions and an online petition to stop it ever returning.
True, in show business, there will always be misses as well as hits, and no one expects every programme commissioned to work out. Even so, there is a bigger issue here than just one or two flops. As the Tesla founder Elon Musk has rightly identified, the streaming giants have been captured by a brand of preachy, politically correct, woke programming that is at risk of driving away audiences. "The Woke mind is making Netflix unwatchable," he tweeted a few days ago.
Netflix shares have tumbled almost 50 per cent from their November high.Credit:Bloomberg
As with his takeover of the equally left-leaning Twitter, Musk is onto something. There are three big issues here. First, there has been too much easy money around. Netflix may have 222 million subscribers, although that total is starting to fall, but it is also sitting on $US14 billion ($19.9 billion) of debt. It has borrowed a tonne of money, poured it into expensive programmes, and kept its fingers crossed that somehow a profitable business would emerge.
The first part has been a great success, but the second is proving a lot harder. Next, its debt-fuelled expansion has meant that it has not had to worry too much about what consumers actually want to watch. It simply made so much content that some of it – Bridgerton, Emily in Paris – was bound to stick. When every show has to justify itself it will be a lot harder.
Finally, the tech industry, with a few notable exceptions, has been captured by a cadre of millennial employees who have grown up in a culture that has become hyper-politicised, obsessed with wellness and work-life balance, and engaged in a full-on culture war with normal society. Along the way, it has drifted further away from where the mass market actually is.
Meghan's dire-sounding Pearl was a perfect example. Dull, worthy and sermonising (what were the chances the inspiring female leaders would include an animated Mrs Thatcher discussing inflation, or a CGI Queen Elizabeth I on Tudor England?), it embodied the worst of Woke-flix.
But it goes a lot deeper than that. Very soon the entertainment industry will have to get back to being what it should have always remained: an entertainment industry. Its values should be neither right or left of centre, and with a few obvious boundaries such as preventing racism or sexism, it shouldn't promote any political agenda.
Nor should it be committed to a worldview other than accuracy. And most of all, it should value creativity, laughter and drama, qualities more important than diversity or wellness.
Who knows, it might even start making some money – if not for the royals and fading celebrities on huge deals, then at least for shareholders.
Telegraph, London
The Business Briefing newsletter delivers major stories, exclusive coverage and expert opinion. Sign up to get it every weekday morning.
Most Viewed in Business
From our partners
Source: Read Full Article