Australian energy giant AGL has told investors it will consider earlier closures of its coal-fired power plants if it is confident the grid can handle their withdrawal, as it seeks to fend off billionaire Mike Cannon-Brookes' campaign to scuttle its proposed demerger.
Cannon-Brookes, the co-founder of software giant Atlassian and one of Australia's richest people, earlier this week amassed an 11.3 per cent interest in AGL to become its biggest shareholder, declaring he wants to block AGL's plans to split off its power stations into a new entity that would continue burning coal for more than 20 years.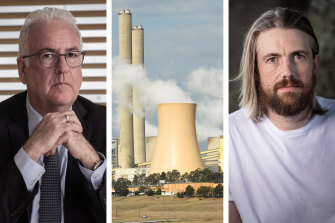 AGL Energy chief executive Graeme Hunt and Atlassian founder Mike Cannon-Brookes, who is seeking to block a demerger of AGL championed by Mr Hunt.Credit:Louise Douvis, Justin McManus, Wolter Peeters
AGL in March brought forward the closure of its Bayswater coal plant in NSW from 2035 to 2033, while Loy Yang A in Victoria's Latrobe Valley would have its 2048 closure date brought forward to 2045. However, the announcement disappointed climate campaigners including Cannon-Brookes, who have been urging the company to align its closure dates with the United Nations' calls for developed countries to quit coal-fired electricity by 2030 to avert catastrophic levels of climate change.
AGL chief executive Graeme Hunt on Thursday accused Cannon-Brookes of making false "claims" about AGL's proposed demerged power station offshoot, to be known as Accel Energy, and stressed the company was open to faster coal closure dates if market conditions allowed.
"These revised closure dates are not the end of the story," he told a Macquarie Australia conference.
"Accel will continue to challenge those closure dates and look to see how they can improve on this should the system be able to accommodate this in an orderly and responsible way."
AGL's coal- and gas-fired power stations are the biggest sources of greenhouse gas emissions in Australia, accounting for 8 per cent of the nation's carbon footprint. The company has resisted calls to exit coal by 2030, warning the shift from fossil fuel-based power generation to more weather-dependent renewable energy risked destabilising the market at times when it is not sunny or windy, and drive up consumers' energy bills.
In a letter addressed to the board and circulated among shareholders, Cannon-Brookes' Grok Ventures described the demerger as "irresponsible" because it would entrench a position inconsistent with limiting climate change.
It also cast doubt over whether Accel would be a viable, standalone public company because of huge liabilities and limited ability to access capital to fund the replacement of its assets and remediation costs.
Hunt urged shareholders to "focus on the facts", including AGL's significant portfolio of renewable energy and batteries, which ranks as the largest in Australia, and its newly announced $2 billion partnership with Global Investment Partners to drive Accel Energy's "low-carbon growth ambitions".
AGL's board is standing by its position that the demerger would unlock value for shareholders, including by transforming its coal sites into energy "hubs" that could include renewables and batteries.
The demerger, which will be put to an investor vote on June 15, needs support from 75 per cent of voting shareholders, meaning Cannon-Brookes needs to convince another 14 per cent of the register to vote against the proposal for it to fail.
AGL's scheme booklet, outlining details of the company's demerger proposal, will go before a NSW court for approval on Thursday.
The Business Briefing newsletter delivers major stories, exclusive coverage and expert opinion. Sign up to get it every weekday morning.
Most Viewed in Business
From our partners
Source: Read Full Article