The chief executive of financial intelligence regulator Austrac, Nicole Rose, has rejected criticism the agency has been overly focused on banks, saying the sheer amount of money flowing through big lenders makes them a key risk for money laundering.
Austrac's action against banks for anti-money laundering compliance breaches has led to record-breaking corporate penalties in recent years, with Commonwealth Bank fined $700 million after a 2017 case and Westpac paying $1.3 billion after a 2019 lawsuit.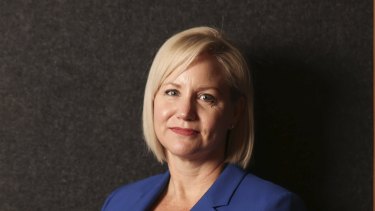 Austrac chief executive Nicole RoseCredit:Alex Ellinghausen
But the Sydney Morning Herald and The Age this week revealed NSW Police Assistant Commissioner Stuart Smith had criticised Austrac in secret briefings last December. Smith last year said Austrac was "not swinging hard enough" and had failed to more aggressively combat organised crime because of its focus on banks, according to the report, and described the agency as "nitwits".
Rose defended Austrac's approach on Friday, saying it had focused on banks first because of the risks in the financial sector, and in the last few years it had been looking more closely at casinos, as well as pubs and clubs.
"I don't think that's anywhere near correct," Rose said when asked to respond.
"Yes we have been focusing on the banks because they are the biggest risk for money laundering, in the sense that… the majority of the funds, go through the big banks in the country."
While Austrac has launched major court cases against companies, Rose added it was not the regulator's job to make arrests. "When it comes to organised crime, we can't arrest all these criminals, we actually have to provide the intelligence to law enforcement for them to arrest organised criminals and prosecute actual money laundering. As a regulator, we look at regulating compliance with the AML/CTF Act," she said.
On an earlier panel session, Rose said priorities for Austrac this year included education to raise awareness about pubs and clubs' AML/CTF obligations, and continuing with investigations in the casino sector. Amid concerns about laundering through pokies, the agency is launching a national campaign to prevent criminals from infiltrating "your local," she said.
Following the case against Crown, she said Austrac continued to investigate non-compliance by Australian casinos, and called for greater investment by casino operators.
"As has been our experience with the banking sector, there is a need for a general uplift in investment of AML/CTF programs by the sector to mitigate the significant risks posed," she said.
National Australia Bank this month entered into a court-enforceable undertaking with Austrac to address failures in its anti-money laundering regime, but it avoided the court action faced by Westpac and CBA.
Rose said banks had improved their anti-money laundering defences significantly.
"While there is still more work to be done in the banking sector, it is much, much improved and I congratulate the sector for the approach and commitment shown," Rose said.
The Business Briefing newsletter delivers major stories, exclusive coverage and expert opinion. Sign up to get it every weekday morning.
Most Viewed in Business
From our partners
Source: Read Full Article