A Star Entertainment Group director says fear of competition from James Packer's new Sydney casino at Barangaroo was a key reason the company embraced rogue behaviour which left it open to money laundering and criminal infiltration.
Sally Pitkin also told the NSW government inquiry into Star on Friday that the ASX-listed group knew a "new board needs to lead the company through the reform process and into the future", and that she had already offered to resign.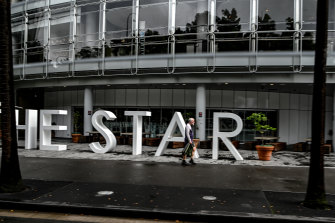 The Star feared competition from Crown Resorts' new Sydney casino, the inquiry heard. Credit: Flavio Brancaleone
The inquiry – launched in response to a series of reports by the Sydney Morning Herald, The Age and 60 Minutes – has already led to a number of senior executives resigning, including chief executive Matt Bekier and chief financial officer Harry Theodore.
In the final days of public hearings, the inquiry is examining the Star board's role in its numerous probity and ethical failings, which include its partnerships with "junket" tour groups linked to organised crime, its lax money laundering controls and its abuse of Chinese bank cards to facilitate $900 million of banned gambling transactions, which it then lied to its bank about.
Pitkin choked up on Friday when inquiry chair Adam Bell, SC, asked "what went wrong" at Star, before she gave an elucidating insight into the company's catastrophic cultural failure.
She gave three reasons why otherwise good people developed an "indifference" to legal and ethical wrongdoing, starting with a "failure to understand the harm that comes from money laundering".
Money laundering is a crucial element of organised criminal enterprise, as it disguises proceeds from drug and sex trafficking and other illicit activities as legitimate income, such as gambling winnings from a casino.
'Crown was the company that benefited from the Packer influence and had these advantages, and Star was the underdog.'
"Everyone in the organisation, from the board all the way through, needs to hear about the harm of money laundering," said Pitkin, who has been on Star's board for almost six and a half years and also chairs Super Retail Group. "Those stories will be very difficult, very uncomfortable – but they need to hear those stories."
The second factor was that Star was preoccupied with the incoming threat of James Packer's Crown Resort, as it built its new high-roller casino at Barangaroo, a short distance from Star's property on Sydney Harbour.
Star for a long time carried the notion that it was "not like Crown", Pitkin said, and that "things happened at Crown that could never happen at Star".
"Crown was the company that benefited from the Packer influence and had these advantages, and Star was the underdog," she said. "That was blinding."
Star's VIP division, tasked with luring high-rollers from overseas, was let loose to build up as much business before Crown Sydney opened its doors. "Their voice was the loudest," Pitkin said. "People in compliance… were either silent, ignored or complicit" while the VIP team was "just ignoring the rules".
The company also lacked a "level of capability in some of the very key rules" which meant there was not enough accountability and unacceptable delays in crucial work, such as due diligence work on "junket" partners to check for criminal links.
Crown's Sydney casino was announced in 2012 and was due to open its doors in late 2020. But NSW suspended its licence after another independent inquiry – also triggered by this masthead's reporting – ruled it unfit in early 2021, and is yet to reinstate the licence.
Like fellow directors Ben Heap and Gerard Bradley, Pitkin agreed that the board was ultimately responsible for the Star's failings, flagging a mass exodus of directors.
She said she had offered to be the first director to resign and that she expected to leave by the end of June. The inquiry continues. Star's executive chairman John O'Neill is the final witness due to give evidence.
The Market Recap newsletter is a wrap of the day's trading. Get it each weekday afternoon.
Most Viewed in Business
From our partners
Source: Read Full Article