Australians could access a single-shot vaccine for COVID-19 and the flu in coming years as US biotechnology giant Moderna pushes forward with development of a new product that could be made at its Victorian manufacturing site.
Chief medical officer at the $US50 billion company, Paul Burton, told The Age and The Sydney Morning Herald there had been huge interest from governments around the world for a single vaccine that tackles multiple respiratory diseases.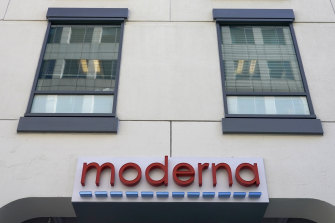 Moderna's local operations will be capable of producing products targeting multiple respiratory illnesses. Credit:AP
"Its [appeal is] a combination of ease of compliance and adherence, and just the simplicity of it 'one and done'," Burton said.
Tools to fight influenza have been in the spotlight this winter as case numbers surge after two years of COVID lockdowns, which reduced transmission of the flu.
Moderna is currently running trials of a combined flu and COVID vaccine and will soon launch a phase-one study of a shot that can fight influenza, coronavirus and respiratory syncytial virus (RSV).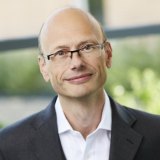 Chief medical officer of Moderna, Dr Paul Burton. 
"We would aim to have this [product] authorised for flu and COVID for maybe late 2023 early 2024, it is right around the corner," Burton said.
Moderna's managing director for Australia and New Zealand, Michael Azrak, said once these new products were approved they would be able to be made in Victoria, along with Moderna's original COVID vaccines and a vaccine targeting influenza only.
What ends up being made onshore will come down to which products end up being approved and what orders the government makes for vaccines.
"We produce the volumes, and they tell us what they want," Azrak said.
The company has chosen a site for its Melbourne production facility, and is set to announce its location in the two months once the deal has been formalised. The company will make up to 100 million vaccines a year under a ten-year deal, with the site set to come online in 2024.
Moderna has a range of products in development including a personalised cancer vaccine, but it continues to focus on COVID-19 products. At the end of last week, the US Food and Drug Administration approved the use of its vaccine in children from six months of age.
Burton said that while restrictions had been relaxed in a range of settings across Australia, it was important to maintain simple public health measures like masking where possible.
"I think COVID is a devastating disease and I think as healthcare systems we are going to be dealing with this for decades to come," he said.
"We can't let our guard down."
The Business Briefing newsletter delivers major stories, exclusive coverage and expert opinion. Sign up to get it every weekday morning.
Most Viewed in Business
From our partners
Source: Read Full Article