Woolworths has launched a new app that promises groceries door-to-door within an hour for a $5 fee in a move that poses a huge challenge for a crop of start-ups that offer a similar service but a boon for consumers who have grown used to speedy deliveries during the pandemic.
The app, Metro60, launched this week in 11 eastern Sydney suburbs, including Bondi, Vaucluse and Rose Bay, to little fanfare. The supermarket giant plans to roll it out in hundreds more neighbourhoods across NSW and other states in coming months as it fights for market share in the $100 billion-a-year sector during an economic downturn.
Woolworths has launched a new app that allows customers to have groceries delivered in an hour.Credit:Patrick Scala
About 4000 products from fresh produce to cleaning supplies will be available from Woolworths' small format Metro stores via Uber couriers. The first three deliveries are free, with a $5 delivery fee and $20 minimum order thereafter.
Woolworths' chief transformation office, Von Ingram, described Metro60 as a way for customers to quickly get last-minute snacks, ingredients or meals.
"Our busy customers are already familiar with the convenience a Woolworths Metro provides when
they're on the go, and we see Metro60 as an opportunity to offer a new level of ultra convenience and help customers save even more time," Ingram said.
Woolworths' move follows a string of start-ups in Australia that sprung up last year offering supermarket deliveries in 10 or 15 minutes, including Milkrun, Voly and Send.
Send collapsed in May while The Sydney Morning Herald and The Age revealed Voly had cut staff and stores earlier this month amid a technology downturn that has made it harder for start-ups to raise money.
But Woolworths poses an even greater challenge for the two surviving firms. Even compared to Milkrun, which has announced capital raises totalling $86 million, Woolworths is a financial colossus with a market capitalisation of more than $42 billion, an established supply chain and a huge store network across the country.
Its partnership with Uber means it will likely save on labour costs too because the gig economy company uses contractors who have flexible working arrangements and are paid per job rather than a minimum hourly wage.
Milkrun and Voly use employees and offer faster delivery times, with Milkrun in particular also displaying a particular flair for branding, such as wrapping vehicles in its eye-catching blue and white logo.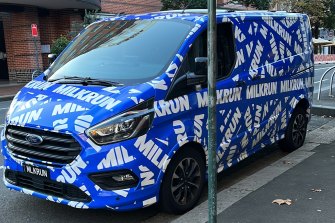 A van belonging to the food delivery company Milkrun, run by branding expert and Koala co-founder Dany Milham, is seen in central Sydney.Credit:Nick Bonyhady
Metro60's launch comes at a hard time for the retail sector, which is dealing with shortages of vegetables such as lettuce and suppliers demanding price rises to cover the increased cost of things like fuel, power and fertiliser. The Reserve Bank of Australia, charged with controlling inflation, has also been trying to convince consumers to cut back their discretionary spending by increasing interest rates.
Woolworths currently offers deliveries for fees ranging from nothing to $15, depending on the time frame, using a range of couriers that includes Uber for some of its fastest services. Last year it announced a partnership with Uber Eats to offer about 1200 products at Woolworths Metros on the US giant's app.
Coles has a partnership with another gig economy delivery company, DoorDash.
Most Viewed in Business
From our partners
Source: Read Full Article