Australia's flag carrier is facing industrial action such as work stoppages in a pay stoush with its aircraft engineers, a development that could further escalate the airport chaos for travellers.
At least 700 licensed aircraft engineers at Qantas, its budget offshoot Jetstar and its fly-in fly-out charter service Network Aviation have voted to take industrial action as early as next Monday, which may culminate in work stoppages of up to 12 hours and a refusal to work overtime.
More than 90 per cent of members of the Australian Licenses Aircraft Engineers Association (ALEA) who responded to a postal ballot indicated their support for the overtime ban and strikes if the airlines don't improve their offer of a wage freeze followed by 2 per cent pay rises.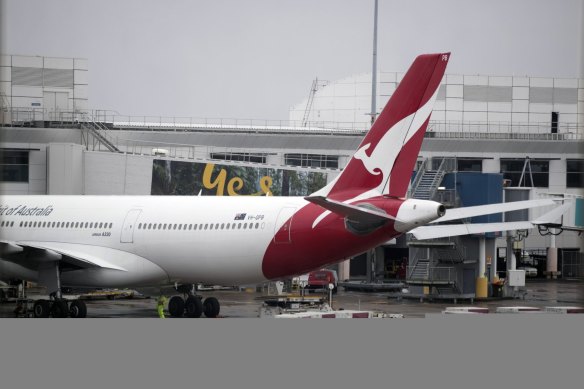 Qantas' licensed engineers are preparing for industrial action by the end of the month.Credit:Bloomberg
Qantas' engineers have asked for a one-off pay rise of 12 per cent while their counterparts at Jetstar have asked for a 15 per cent increase over four years and those at Perth-based Network aviation seek a 20 per cent raise over the same four-year period.
The negotiations between Qantas and the union commenced in 2019, were paused due to the pandemic but then resumed last December, to no avail. Jetstar and Network Aviation engineers restarted their negotiations in May.
ALEA federal secretary Steve Purvinas stressed on Thursday that the engineers want to avoid disrupting passengers as much as possible. The action will begin with one-minute work stoppages across the airlines by the end of August with a view to escalate the action into longer strikes if the company doesn't back down.
'This is not an action against passengers, this is something we need to do to pressure the airline to put a reasonable offer on the table.'
"A one-minute stoppage is not going to harm any airline or passenger and will also demonstrate our willingness to negotiate in good faith and our not wanting to harm the airline," Purvinas said, adding that he hoped the "token" move would be enough to prompt management to change their view.
If longer strikes were to eventuate, the union would offer an alternate workforce at a significantly higher pay rate to ensure minimum disruption to passengers, Purvinas explained.
"This is not an action against passengers, this is something we need to do to pressure the airline to put a reasonable offer on the table."
Qantas engineering executive manager Scott McConnell said the decision to progress the protected action was "extremely disappointing".
"We're committed to pay increases for our licensed engineers, but the union's pay claims are as high as 12 per cent for one year, or three times the wage increases agreed to this year by thousands of employees," he continued.
The next meeting between Qantas and the union is scheduled for next week. The airline is in the process of responding to the union's requests including costing a new rostering pattern put forward this month.
A spokesperson for Jetstar said it was "completely unreasonable" for the union to take industrial action given the airline has only recently tabled its log of claims and has a meeting next week to hear the union's response.
On Thursday, staff at cargo airline Express Freighters Australia accepted Qantas's offer of a backdated two-year wage freeze followed by a 2 per cent annual increase after 69 per cent of its union members voted in favour of the agreement.
Last week, third-party provider Dnata, which is contracted to Qantas after the carrier outsourced baggage handling, was approved to vote on industrial action by the Fair Work Commission.
Dnata workers have been angling for a new enterprise bargaining agreement that will include more offers of part-time work and the hiring of more permanent staff. The vote's result is expected in September and could see baggage handlers also take industrial action including strikes, further increasing the strain on airlines and airports.
The Business Briefing newsletter delivers major stories, exclusive coverage and expert opinion. Sign up to get it every weekday morning.
Most Viewed in Business
From our partners
Source: Read Full Article