The Financial Services Union said National Australia Bank staff were unhappy with the "meagre" pay deal being offered and would start industrial action, which has not been taken at the bank for more than 20 years.
The bank, which employs 32,000 people, is currently in bargaining discussions with the union as it negotiates a new enterprise agreement for staff.
It has offered employees earning less than $100,000 annually a 5 per cent rise in the first year, and a 4 per cent rise in the second year. Those earning more than $100,000 have been offered a 4.5 per cent increase followed by 3.5 per cent.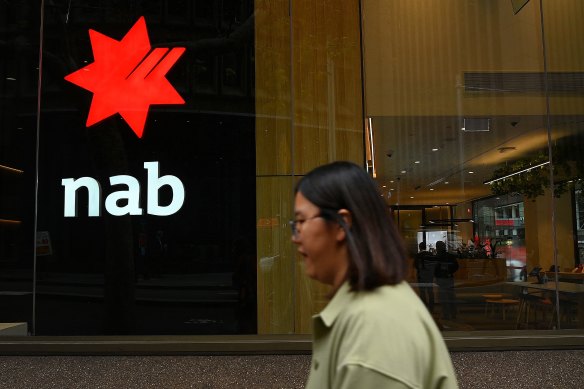 NAB is currently negotiating a new enterprise agreement for its 32,000 staff.Credit:Kate Geraghty
As part of NAB's proposal, the annual review of more senior staff would continue to be managed outside the enterprise agreement, as it has been for the past decade. The union says this means about 60 per cent of the workforce would have no certainty of a pay increase.
The company has also proposed an extra week of paid leave each year, dubbed 'You Leave', for employees who have met their requirements for annual leave, rostered days off and long service leave within a financial year.
The union wants a 6 per cent pay rise for all employees, and argued that its members, including those in very senior roles, were unhappy with the position put forward by NAB because it represents a pay cut in real terms for employees and does not keep pace with inflation.
In July, federal Treasurer Jim Chalmers said he expected inflation would peak at an annual rate of 7.75 per cent by the December quarter of 2022 and fall gradually, allowing wage growth to begin providing workers with real salary increases by the 2023-24 fiscal year.
The Reserve Bank increased official interest rates for a record fifth consecutive month in September, lifting them by another half of a percentage point to take the cash rate to 2.35 per cent in an effort to rein in inflation.
The four big banks have passed on each official interest rate rise to mortgage customers in full. It is predicted their profit margins will get a boost from the limited pass-through of rising interest rates to savings accounts.
Financial Services Union national secretary Julia Angrisano said workers were considering industrial action following the bank's pay offer. The last time industrial action was taken at NAB was in 2001.
"NAB's executives think their 'business as usual' model is good enough but our members are very disappointed that the bank refuses to acknowledge the overwork and understaffing crisis or the need for change," said Angrisano.
The FSU says industrial action could include strikes, stop work meetings and overtime bans.
The FSU did not say how many NAB workers are union members, but said that it represents "thousands of members across every department and within all levels of NAB".
Angrisano said NAB's chief executive Ross McEwan received a 130 per cent pay rise in 2021, from $2.3 million to $5.3 million. "CEO salaries are out of control and McEwan and his executives are happy to take big jumps in pay and bonuses while telling workers they need to take a cut in real wages," she said.
NAB's executive of people and culture Susan Ferrier said a lot had changed in the workplace since the bank's last agreement in 2016. "We are looking to modernise and put our trusted colleagues first by fairly rewarding them, supporting their flexibility, lifestyle and wellbeing, and introducing an extra week of leave and improved parenting leave entitlements," she said
"NAB is working constructively with the Finance Sector Union and individual bargaining representatives as bargaining continues, so we can achieve an enterprise agreement that is simpler and more contemporary. Through bargaining, we intend to develop a new enterprise agreement that is endorsed by the FSU before it is put to colleagues for a vote."
The negotiations come amid severe labour shortages across the country and a fierce battle for talent in the banking sector. The FSU will next meet with NAB on September 28 and 29.
The Business Briefing newsletter delivers major stories, exclusive coverage and expert opinion. Sign up to get it every weekday morning.
Most Viewed in Business
From our partners
Source: Read Full Article