Commonwealth Bank chief executive Matt Comyn remains upbeat about the medium-term outlook for Australia's economy, despite growing economic gloom caused by high inflation and the war in Ukraine.
Comyn addressed shareholders at the bank's annual general meeting on Wednesday against a backdrop of significant global uncertainty, as markets worry about rising interest rates, high inflation, the Ukraine conflict, and an energy crisis in Europe. Treasurer Jim Chalmers warned overnight that Australia would not be immune from the effects of a looming global recession.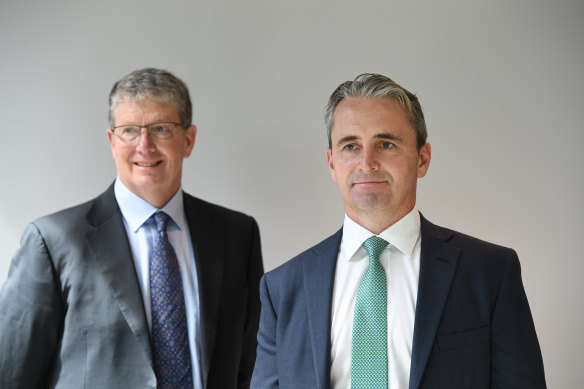 CBA chairman Paul O'Malley (left) and chief executive Matt Comyn addressed shareholders at the bank's annual general meeting on Wednesday.Credit:Peter Rae
"In this uncertain environment, we remain as focused as ever on supporting our customers and communities. We're also committed to playing our part in supporting the economy, promoting financial stability and encouraging growth," Comyn said at the meeting, held at the Melbourne Cricket Ground.
"Overall, we remain fundamentally optimistic about the medium to long-term opportunities for Australia, as well as our capacity to provide support in the immediate future for customers who need us."
CBA is the largest bank in Australia, holding one in four mortgages, and it is also making an aggressive push further into business lending. While Comyn's prepared remarks did not contain extensive economic commentary, he said the bank had "a clear role to play in supporting Australian businesses at this time.
"Having helped businesses during the pandemic, we're now supporting their growth while they manage through the current environment," he said.
Comyn's remarks come as bank investors are grappling with how lenders will be affected by a weakening economy and rising interest rates, which have surged from 0.1 to 2.6 per cent since May and are set to make a major dent on many households' cashflows.
Speaking alongside Comyn, CBA chairman Paul O'Sullivan acknowledged the "challenging" economic backdrop in his first address to shareholders since he took over from former chair Catherine Livingstone in August.
"The war in Ukraine, while a long way away, is having profound impacts on the global economy, including here in Australia. Many people are experiencing the sharp rise in the cost of living. We know from our interaction with customers, that households and small businesses are looking to us to provide support when they need it most," he said.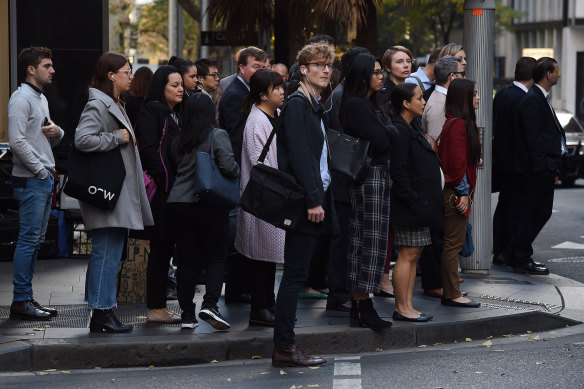 The Australian economy is facing a number of headwinds. Credit:Kate Geraghty
O'Sullivan said the bank had made significant progress this year in its strategic priorities, which included leadership on technology, selling off non-core business, supporting its staff, and improving its culture following a run of scandals in earlier years.
Climate change is also a critical issue facing all banks including CBA, and the lender is facing a shareholder resolution calling for tighter curbs on fossil fuel lending at the annual meeting.
O'Sullivan said climate change was a key focus for the board and management, and pointed to the bank's previously announced work developing "glidepaths" to cut emissions among coal, oil and gas, and power generation clients. O'Sullivan said the lender had carried out a climate scenario analysis on 74 per cent of its exposures, and it said this would inform its lending decisions.
"As Australia's largest bank, we have an important role to play in supporting Australia's transition to a net-zero emissions economy by 2050," O'Sullivan said.
"We are doing this through lending that will support the transition, by, for example, lending more for renewable energy projects."
More to come
The Business Briefing newsletter delivers major stories, exclusive coverage and expert opinion. Sign up to get it every weekday morning.
Most Viewed in Business
From our partners
Source: Read Full Article