Electric vehicles (EVs) are famously quick off the mark. However, when it comes to going electric, Australia has not been. But we're finally putting our foot down.
September was a watershed month: Tesla outsold Volkswagen for the first time ever; an Aussie billionaire invested $10 million in a company that's importing second-hand EVs in bulk; and the federal government released an overdue strategy to get more EVs delivered down under.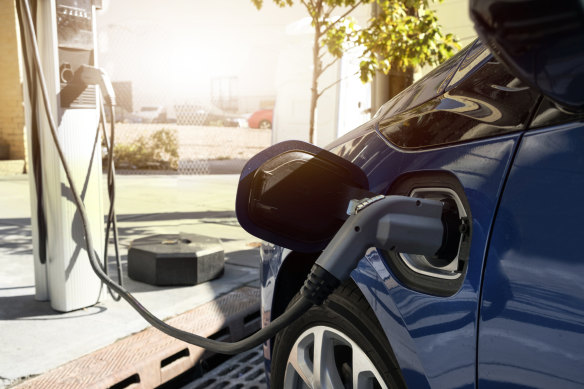 About 4 in 10 Australians say their next car will be electric or hybrid.
All of those events combined will accelerate the falling cost of EVs at a time when fuel prices are headed back over $2, with little respite on the horizon.
EVs are already cheaper than petrol cars in countries such as Norway, where government emissions standards have incentivised carmakers to import electric over petrol vehicles, driving down the price of the new technology.
About 4 in 10 Australians say their next car will be electric or hybrid. We bought around 7000 EVs in 2020, around 21,000 in 2021, and we've already passed that mark in 2022.
The only things holding most of us back are a shortage of supply, the higher cost, and logistics such as access to charging at home and work.
According to September sales figures, the Tesla Model 3 (from around $65,000) is now outselling the Toyota Camry as Australia's most popular mid-size sedan.
Tesla came in seventh overall in September, ahead of VW, MG and Subaru. Its Model Y even ranked as the third best-selling car overall in September, although it was because of a backlog in shipments being unblocked.
Volvo's Polestar 2 (from around $60,000) and MG's ZS (from around $45,000) are the other two biggest sellers.
The Model 3 and the MG are made in China, which has helped to lower the entry-level cost of going electric. But so are imports of second-hand EVs from Japan and the UK.
A new breed of 'car subscription' companies are also offering EVs for those who can't commit to buying one yet. Carbar offers a Polestar plan from $500/week including insurance, registration and maintenance, while energy company AGL offers a Nissan plan from $235/week including insurance and maintenance.
Meanwhile, a philanthropic foundation backed by Atlassian billionaire Mike Cannon-Brookes invested $10 million in the Good Car Company last month, which runs "bulk-buy" campaigns to source second-hand EVs from overseas for drivers looking for more affordable electric options.
Used cars can start from around $20,000 and some are only a few years old with 90% of their original battery capacity, but they have to be imported because EV penetration here remains so low.
The Good Car Company sourced 200 cars this year, but the funding boost means they can now think bigger, sourcing 2000 next year and 20,000 the year after that according to co-founder Anthony Broese van Groenou.
"It's prime time now to give Australians more affordable options for cleaner transport," he says.
The federal government's draft EV strategy, released last month, is aimed at solving the other major barrier: availability.
Car makers and EV advocacy bodies point to Australia's lack of fuel efficiency standards as a major reason why we don't get more EVs delivered down under. The national strategy is trying to fix that but there is friction between the electric and petrol camps over how tough the standards should be.
Every state and territory government now offers incentives for going electric, such as:
NSW: $3000 rebate and no stamp duty.
VIC: Up to $3000 rebate and $100 registration discount.
QLD: Up to $3000 rebate and tax and registration discounts.
ACT: Interest-free loans up to $15,000, no stamp duty and two years' free registration.
SA: $3000 rebate, tax concessions and three years' free registration.
WA: Up to $3500 rebate.
Joel Gibson is the author of KILL BILLS! The 9 Insider Tricks you Need to Win the War on Household Bills. Catch his money-saving segments on Nine Radio, TODAY & Twitter @joelgibson.
Advice given in this article is general in nature and is not intended to influence readers' decisions about investing or financial products. They should always seek their own professional advice that takes into account their own personal circumstances before making any financial decisions.
Most Viewed in Money
From our partners
Source: Read Full Article