A NSW Supreme Court ruling has made it harder for potential bidders to make a play for Perpetual, in a decision that means the fund manager could face stiff penalties if it walks away from a plan to buy out rival Pendal.
Perpetual shares dropped 12.6 per cent to $27.59 on Thursday, as the market came to the view it was less likely that there would be a further offer for the company after last week's $33-a-share bid from hedge fund Regal Partners, which was rejected. Pendal shares surged 10.5 per cent to $4.93.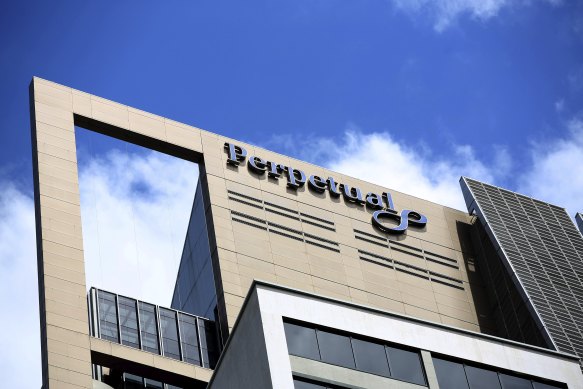 Perpetual has agreed to new terms in its merger with Pendal.Credit:James Alcock
Perpetual first announced plans to buy Pendal in August, but the deal has attracted scepticism in markets. In recent weeks the merger has been thrown into doubt after hedge fund Regal and a private equity firm launched a bid to buy Perpetual for $33 a share.
Regal's interest sparked claims that Perpetual was in play and Perpetual shares surged last week, amid speculation it could dump the Pendal deal if a more attractive offer emerged.
But on Thursday, the court ruled that Perpetual's costs from walking away from its tie-up with Pendal were not capped at $23 million, as Pendal could also take other legal action. Perpetual and Pendal also announced new terms for their merger.
After a dramatic week for the two fund managers, analysts said it now looked likely Perpetual would complete its merger with Pendal, as potential bidders for Perpetual could be deterred by the legal complications, and the need to fork out more than $33-a-share offered by Regal.
Morningstar analyst Shaun Ler said he thought potential bidders for Perpetual would probably think twice after the court ruling, but there was still market scepticism towards Perpetual deal with Pendal.
"The big picture is this does not solve Perpetual's problem. The board is still under pressure to realise shareholder value," Ler said.
CLSA analyst Ed Henning said he continued to lean towards the Perpetual-Pendal deal being completed.
"The announcement today does not preclude Perpetual from accepting a bid, but it does make it slightly more complicated," Henning said.
Even so, chief investment officer of Datt Capital, Emanuel Datt, said a further bid for Perpetual remained possible. Datt said he believed even if Perpetual faced legal action from Pendal for walking away from the merger, the costs would not blow out "materially" above $23 million.
"I think Perpetual are really hedging their bets, just in case a firm or binding bid does not eventuate, then at least they've managed to improve the terms slightly from the initial deal, even if it is a poor deal," said Datt, who holds Perpetual shares.
Perpetual said the court ruling provided "greater clarity for both parties and the market as we progress this transaction".
Perpetual and Pendal also said they had agreed to revised terms that would mean the combined group has less debt.
Under the changes, Pendal shareholders will receive less cash per share, but Perpetual will increase the scrip component of the deal.
Pendal chairman Deborah Page said her board viewed the revised offer as "appropriate and for the benefit of shareholders in the combined group. We look forward to continuing to progress the scheme towards implementation."
The Business Briefing newsletter delivers major stories, exclusive coverage and expert opinion. Sign up to get it every weekday morning.
Most Viewed in Business
From our partners
Source: Read Full Article