National Australia Bank employees have knocked back the company's pay proposal that included wage rises of between 3.5 and 5 per cent, pushing the banking giant back towards the negotiating table.
Amid high inflation and fierce competition for labour, NAB had bypassed the Finance Sector Union (FSU) and put its offer for a new enterprise agreement covering 29,000 staff directly to employees for a vote, despite the union's opposition.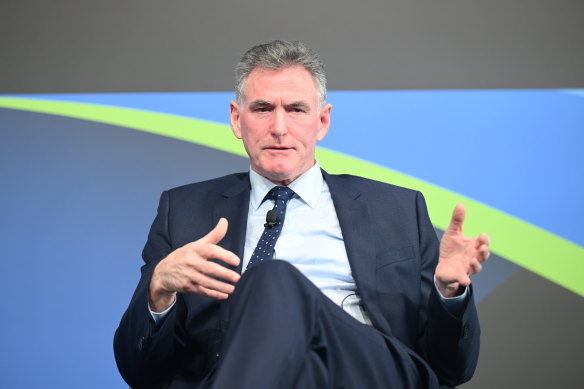 National Australia Bank chief executive Ross McEwan: "The outcome of the vote is disappointing."Credit:Louie Douvis
But 53.9 per cent of staff included in the ballot voted against the deal, while 46.1 per cent voted in favour.
Chief executive Ross McEwan said in an email to staff that the bank would now talk to staff about why the deal was rejected, and it would provide a further update before the end of the year. McEwan told staff the bank would "listen carefully and consider your feedback".
"The outcome of the vote is disappointing, however I acknowledge and respect that a majority of colleagues that voted had a different view," McEwan said.
"We will commence a process of talking with our colleagues to hear from you further and better understand why we have this outcome. In the meantime, the current enterprise agreement 2016 will continue to apply."
The rejected deal had offered staff earning up to $100,000 a 5 per cent pay rise in the first year, and a 4.5 per cent increase in the second year. A group of staff earning more than $100,000 were offered a 4 per cent increase in the first year and a 3.5 per cent increase in the second year, while more senior managerial staff covered by the agreement were offered a pool of funds that would be used for pay increases.
The FSU has been pushing for a 6 per cent pay rise and has urged staff to vote against the proposal.
FSU national secretary Julia Angrisano criticised the pay increases NAB had offered, and also reiterated the union's concern about staff working excessive hours.
"NAB staff are angry that the bank refuses to do the right thing by its employees at the same time it is posting a $6.8 billion-dollar profit," Angrisano said in a statement.
"NAB workers need genuine pay increases that recognise the increasing cost of living. They are also concerned about the excessive hours of work being demanded by NAB executives in order to meet minimum role expectations."
"In an astounding display of arrogance, NAB refused to acknowledge feedback from its staff that its proposal failed to address any of their key concerns."
Westpac last month also bypassed the union and put a proposed enterprise agreement to a vote despite FSU opposition, with the majority of staff supporting the offer. That deal offered a 4 per cent wage rise for staff earning up to almost $95,000 and a $1,000 one-off payment.
CBA this year announced a 4.25 per cent wage increase for workers covered by its enterprise agreement from July, the start of its financial year. The bank also paid staff $1,000 in CBA shares.
ANZ has announced a 4 per cent wage increase for eligible staff covered by its enterprise agreement, also without negotiating with the FSU.
As well as the pay rise, NAB had also offered an extra week of leave for employees who have met their requirements for annual leave, rostered days off and long service leave within the financial year.
The Business Briefing newsletter delivers major stories, exclusive coverage and expert opinion. Sign up to get it every weekday morning.
Most Viewed in Business
From our partners
Source: Read Full Article