'Investment is continuously coming.'
This month — and 2023 is an election year for the state — Madhya Pradesh will organise two big events: The Pravasi Bharatiya Divas and the Global Investors Summit.
"We are not setting any target for the summit, but will see how many possibilities there are in them," Chief Minister Shivraj Singh Chouhan tells Sandeep Kumar /Business Standard.
The Pravasi Bharatiya Divas and Global Investors Summit are the first mega events after the pandemic. Are there any investment targets for the investment summit? Why do you think investors should invest in MP?
Investors will come to earn money; they are not coming to do charity.
Our policies should be such that it is a win-win situation for both the state and investors.
We have tried to make them investor-friendly. There is ample land, enough cheap electricity, and enough water, and there is capital subsidy.
All this has been communicated to potential investors, who face a lot of difficulty in finding land in other states.
One-on-one meetings are also being held. We have got a big proposal in green hydrogen. It could be worth Rs 5,000 crore-Rs 40,000 crore (Rs 50 billion to Rs 400 billion).
We have so many dams that those handling water-consuming projects like green hydrogen are in contact with us. But we also have to see whether it would be fair for us to give what they are asking for.
They are giving examples of different states … that they are getting a lot of concessions there. We are looking at what we can give.
Other than this we do not have lost mandays here. 'Chahe jo majboori ho, mang hamari pooori ho (whatever may be the compulsion, our demand should be fulfilled)' — such slogans are not heard in our state because our policies provide satisfaction to workers.
There are no strikes, demonstrations, etc. Crime in MP is very low compared to other states. We don't have any law and order problem here.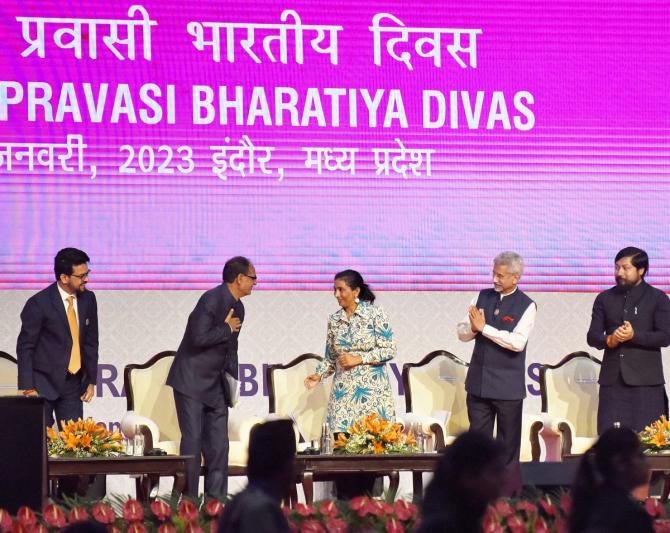 The Global Investors Summit is happening at a time when the economy is still recovering from the pandemic. Do you think investors will show an interest?
Surprisingly, this time the representatives of 68 countries are attending it, which is a record.
The presidents of Suriname and Guyana, ministers and delegations from eight countries, and ambassadors from 38 countries are coming.
Investment proposals are being worked out even before the event.
Priority will be given to employment-oriented sectors at the Global Investors Summit?
Definitely. Textile and readymade garments, and IT are the sectors that provide more employment with relatively low investment.
Obviously we are giving these sectors more concessions.
Then there are areas like solar energy that create very few jobs with huge investments, say, 100 jobs for an investment of Rs 6,000 crore (Rs 60 billion).
At the same time electricity is also necessary. So we have to strike a balance.
Will any kind of promise be taken from the companies regarding providing employment to the locals?
We have a policy that private investors and enterprises should give 75 per cent employment to the locals.
We are also consulting companies on what kind of skilled manpower they want.
In Bhopal, we are setting up a Global Skill Park in collaboration with Singapore. There 6,000 people will be trained in a year.
How will you showcase MP at this summit?
Investment is continuously coming. We are not setting any target for the summit, but will see how many possibilities there are in them.
We have seven-eight sectors, in which pharma, textile, and readymade garments are the main ones.
Textile is an employment-oriented sector in which even if there's an investment of Rs 100 crore (Rs 1 billion), at least 1,000 people will get direct employment.
If there's an investment of Rs 200 crore-Rs 300 crore (Rs 2 billion-Rs 3 billion), 3,000-4,000 people get direct jobs.
MP is an ideal destination for IT. But the local talent chooses to go abroad. This sector has not grown in the state the way it was expected to.
The IT sector was affected all over the world due to Covid. It needs dedicated infrastructure.
We do not have much space left in Indore. The IT parks of Bhopal and Jabalpur are full and there is no space there either.
New IT parks are being built. However, it is our endeavour that not only big companies, but small IT firms also come to the state.
The state has brought in a new start-up policy. What are the plans in this area?
In this field, in just one year the youth of Madhya Pradesh have done wonders. We have around 2,700 start-ups.
Indore is becoming a start-up hub and a start-up there has become a unicorn. We are in a takeoff position in this field.
What can we expect from the Pravasi Bharatiya Divas programme?
NRIs from all over the world are coming. We would like them to leave MP with a positive opinion about the state.
An entire session will focus on the possibilities of Madhya Pradesh. The state wishes they would invest. Let me give an example.
There was a time when bone marrow transplant was not done in Indore.
Once when I went to America, I talked to some NRI doctors, and the result is that now bone marrow transplant is done there.
Feature Presentation: Rajesh Alva/Rediff.com
Source: Read Full Article