Stubborn, relentless, and disappointing best sum up the latest runaway inflation figures.
For mortgage holders, Wednesday's double header of economics numbers will be crushing. Just when many hoped inflation growth may have reached a peak and consumers had begun to close their wallets, the official consumer price index and retail spending numbers show neither happened in November.
Australians just kept spending and inflation has taken off again to reach 7.3 per cent. After easing a little in October it has made its way back to a 32-year-high.
Spending is resilient and inflation is tenacious while the job market remains tight.
The increase in retail spending is double what economists were expecting.Credit:Louise Kennerley
These data points will improve the odds that the Reserve Bank will use its February meeting to raise interest rates by 25 basis points. If so, borrowers will have had only one month's reprieve from rapid-fire rate rises in 10 months.
The rise in inflation comes despite evidence that most international economies are feeling early signs of some inflation respite while supply bottlenecks are easing.
Until Wednesday, Australian economists had been hedging their bets on a rate rise in February with some predicting the RBA would pause for a month and allow for digestion. We are still at least 50 basis points shy of what the market predicts will be peak rates.
The increase in retail spending to 1.4 per cent month-on-month is double what economists were expecting and represents 11 straight months of gains and a rise of 7.7 per cent against November last year.
While all the categories that make up the consumer price index were up, it was building costs and rents that dominated the rise. New dwelling prices rose 17.9 per cent in the year to November as builders passed through higher costs for labour and materials. That said, the rate of increase in November slowed from October as some building projects were put on hold.
Food inflation raced ahead 9.4 per cent over 12 months, housing galloped ahead by 9.6 per cent as did transport, which rose by almost as much, while clothing and footwear was 4.1 per cent higher for the year but the rate of growth has eased over the past few months.
We are still at least 50 basis points shy of what the market predicts will be peak rates.
The elevated November inflation print doesn't yet capture the big gains in the price of utilities. These are not expected to show up until the December figures are released.
Despite this inflationary pressure, the December quarter is still considered to yield "peak inflation". And the RBA will have those December numbers before it makes its interest rate decision in February.
The stronger than expected retail sales are harder to read though because they are skewed by the increasing popularity of the November Black Friday and Cyber Monday sales. This is backed up by online sales, which gained 13 per cent seasonally adjusted in November.
Each year this week of discounting increases in importance and cannibalises traditional Christmas buying and January sales.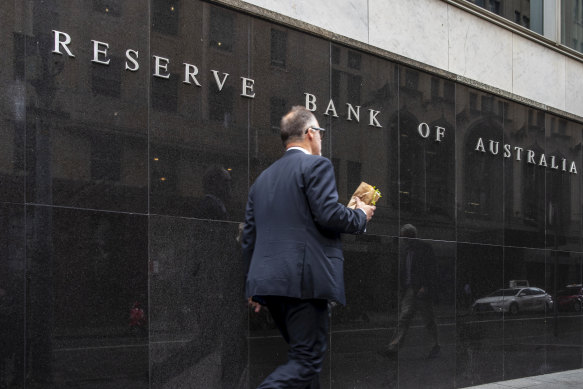 The Reserve Bank will have December's 'peak inflation' numbers before it makes its interest rate decision in February.Credit:Louie Douvis
This could mean that the December retail sales number could be softer than anticipated, particularly if consumers took the opportunity for one last splurge in November before belt tightening.
Most retail analysts are expecting spending to moderate this calendar year as the savings pool built up during COVID continues to drain and cost of living pressures continue.
Anecdotal evidence suggests January sales were fairly quiet.
But the RBA will need to be convinced that inflation is cooling before it will take its foot off the rate accelerator.
The interest rate sensitive housing market is certainly responding as expected, with home values falling precipitously.
But elsewhere in the economy, consumers are still spending their way to higher interest rates.
The Business Briefing newsletter delivers major stories, exclusive coverage and expert opinion. Sign up to get it every weekday morning.
Most Viewed in Business
From our partners
Source: Read Full Article