If you're thinking about downsizing you may also be considering renting rather than buying. Currently, build-to-rent is all the buzz for retirees and those looking for affordable housing. So what is it, and how is it different to just renting?
Build-to-rent is a popular housing model around the world which has recently come to Australia. As the name suggests, the developer builds the homes or apartments, retains the ownership and rents them out. Unlike other developments with a combination of individual owners and tenants who rent from individuals, these developments are entirely owned and managed by the developer.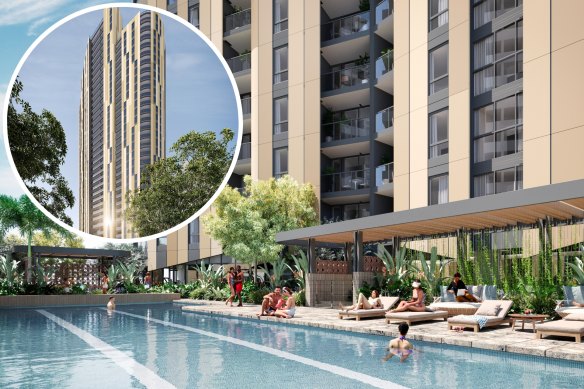 Build-to-rent options, such as this one proposed in Fortitude Valley, are becoming popular downsizing options.
Build-to-rent developments offer many of the amenities that you would find in a retirement village such as dog parks, BBQ areas, communal gardens, swimming pools, cinemas and gyms. The fact that the entire development is owned and managed by the developer means that you can have greater flexibility through longer lease terms, lower or no bond, permission to have pets and decorate the home, and the ability to move between homes when your circumstances change. In some cases your rent includes the whitegoods, there are organised social activities, and you can access cleaning and maintenance services too.
If you currently own your home and are receiving an age pension you need to make sure you know the impact of downsizing into a build-to-rent development before you make the move.
As a non-homeowner, the age pension asset cut-off is $846,750 for singles and $1,159,500 for couples. With the median house price across capital cities currently around $850,000 it is easy to downsize or lose your pension in the move. If you receive the age pension, then access to rent assistance of up to $152 per fortnight on top of your pension can help with the cost of your new home.
Beyond the pension implications, you also need to consider that you don't own the home or have the same security tenure that you would in a retirement village. In a strata development, there's an owner's corporation which gives you the ability to deal with day-to-day running and maintenance of the building and grounds. In a retirement village, there is often a resident's committee that represents the interests of residents. But in build-to-rent, there's just one owner which can make it easier to manage, but it can also make it difficult to control rent increases.
Build-to-rent is often seen as an affordable housing option and across the eastern states governments are providing incentives so that some or all of the homes in a development can be provided at a lower cost.
However, that doesn't mean they are all cheap. In some developments, the rent is higher than the private rental market because the development has numerous amenities or services.
If you are considering downsizing it is vital to look at the contract for your accommodation and ask what are my rights, responsibilities and costs when I move in, while I live there, and after I leave to ensure there are no nasty surprises down the track.
Advice given in this article is general in nature and is not intended to influence readers' decisions about investing or financial products. They should always seek their own professional advice that takes into account their own personal circumstances before making any financial decisions.
Rachel Lane is the principal of Aged Care Gurus and co-author of Aged Care, Who Cares? and Downsizing Made Simple.
Most Viewed in Money
From our partners
Source: Read Full Article