Australia's growing rental crisis, which pushed capital city rents up by 15 per cent last year, may be just the tip of the iceberg, according to Associate Professor Bruce Bradbury, of the University of New South Wales.
As interest rates continue to rise and rental markets tighten, Bradbury believes it's time for the government to double the Commonwealth Rent Assistance and ease the pressure on the more than 1.3 million households who rely on the supplement.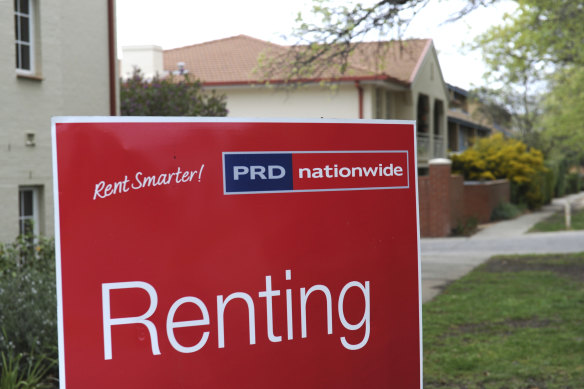 Australia's growing rental crisis, which saw capital city rents increase by 15 per cent last year, may just be the tip of the iceberg.Credit:Graham Tidy
Rent assistance is paid to people who receive certain social security pensions or benefits, such as the age pension for retirees. To qualify, you also need to pay a minimum amount of rent for your home (known as the rent threshold). At present, the threshold is $68 a week if you are single and $110 a week if you are a couple. The thresholds are low relative to most rent prices, which means very few people miss out because their rent isn't high enough.
Beyond the threshold, rent assistance is calculated at 75¢ per dollar of rent. However, the problem lies at the other end of the formula – the point beyond which no more rent assistance is paid. The maximum rent assistance you can receive is $76 a week for singles and $71 a week for couples, meaning you don't receive any assistance on rent you pay beyond $169 a week for singles or $205/week for couples, a long way short of most rents.
According to PropTrack, the average rent price for units across all capital cities is $470 a week. For a single pensioner, rent assistance would cover just $76 of the $470 weekly rent, while a couple's rent assistance would cover just $71, leaving them to meet the other $399 a week.
Bradbury says average rents are actually a poor measure of what is going on because of the lag between rent rises and their appearance in the data.
"That's because rent increases occur when a lease comes up for renewal or when a property is re-let. So while ABS numbers are showing average rents are just 2.2 per cent above February 2020, research by SQM Research shows advertised rents are actually up around 35 per cent over that period," he says.
Bradbury points to the Henry Tax Review (2009), which recommended linking the upper rent threshold to rent prices for the 25th percentile of one- and two-bedroom dwellings in capital cities. Should the policy be adopted, Bradbury's calculations show eligible pensioners could receive rent assistance on rent of $354 a week, more than doubling the rent assistance payment to about $215 a week for singles.
Rent assistance is a crucial budget element for many retirees, as it applies across more than just private rentals to include caravan parks, land lease communities, retirement villages and granny flat arrangements.
Bradbury believes the rent crisis is set to spread and worsen, placing severe stress on many vulnerable Australians. Eventually, the best solution is to provide more dwellings, but that takes time, investment and potential changes in government policy. The simplest short-term response is to financially support renters.
Advice given in this article is general in nature and is not intended to influence readers' decisions about investing or financial products. They should always seek their own professional advice that takes into account their own personal circumstances before making any financial decisions.
Rachel Lane is the principal of Aged Care Gurus and co-author of Aged Care, Who Cares? and Downsizing Made Simple.
Most Viewed in Money
From our partners
Source: Read Full Article