ABC staff have postponed plans to stop work and protest for 40 minutes during Tuesday's Reserve Bank interest rate decision after receiving an improved pay offer from managing director David Anderson.
Employees have started posting on social media platforms including Twitter with the hashtag #dontdiscountABC to inform the public about why they are fighting for improved working conditions after voting to postpone a strike to allow negotiations to continue. Media Entertainment and Arts Alliance media director Cassie Derrick said the new offer by Anderson still did not satisfy all employee demands, but was encouraging.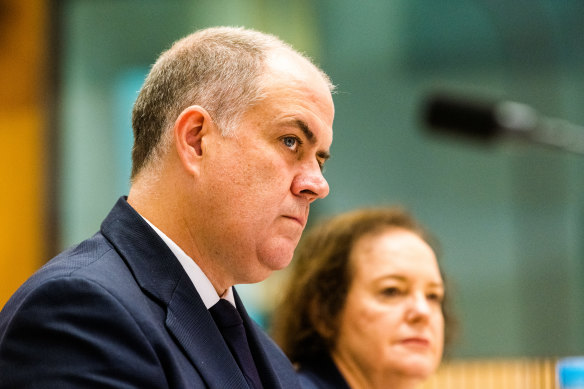 ABC boss David Anderson's improved offer is being considered by staff.Credit:James Brickwood
"The new offer provided by management this morning contains several improvements on what has been on the table until now," Derrick said on Monday evening. "Members are encouraged that the new offer hears their concerns on gender and race pay gaps and buyouts and comes some way to addressing claims on progression and a fair pay rise."
The 40-minute "stop-work" action was set to take place on Tuesday at 2pm, a plan which was to coincide with the RBA's latest interest rate announcement. If it went ahead, it would have left the national broadcaster without key presenters and business journalists as the RBA announced what is being widely predicted as the tenth consecutive rate rise.
Union members voted to postpone the planned action on Monday after Anderson provided an improved offer: an 11 percent increase in salary over three years, a one-off $1500 payment in the first year and an expanded gender and diversity pay audit.
"The new offer provided by management this morning contains several improvements on what has been on the table until now," Derrick said. "It does not satisfy all of employees' demands and there is still work to be done, but there is no doubt the pressure from union members has led to this better offer from ABC managing director David Anderson after his executives refused to negotiate for weeks.
"This has never been just about pay. It's about ensuring a fair go at forging a career at the public broadcaster."
Anderson was pulled into negotiations in February after employees rejected the taxpayer-funded organisation's most recent pay offer and began to threaten industrial action. About 90 per cent of the MEAA's 1000 ABC members last Tuesday voted in favour of industrial action in an attempt to reach an improved offer from management.
The planned action was going to be the first for the ABC since 2006, when the 7pm television news was put together by managers, and national bulletins were presented by a state news editor. Instead, staff – including business reporters Dan Ziffer, Michael Janda and Peter Ryan, have taken to Twitter to talk about why they are fighting for improved conditions.
ABC staff are advocating for career progression for junior staff, a transparent reported gender and race pay gap audit and a solution for the absence of buyouts, a system which previously gave staff a higher fixed base salary instead of allowances and penalty rates for overtime.
The ABC's most recent offer, which was presented to staff on Monday, offers staff a 4 per cent per annum increase for the first two years of the proposed agreement, and a 3 per cent increase in the third year. It proposes no reduction to existing entitlements, increases to meal and district allowances, and an extension of its gender-pay audit to include staff diversity (if the data is available). Anderson also said he was preparing a clause in the agreement to promote junior staff members based on performance.
Members of Community and Public Sector Union, which also represents ABC staff, have until March 15 to decide whether to undertake industrial action over the drawn-out pay negotiations. Derrick said the MEAA would discuss the new offer with the CPSU in the coming days. There are currently no plans to reschedule Tuesday's strike action.
The Morning Edition newsletter is our guide to the day's most important and interesting stories, analysis and insights. Sign up here.
Most Viewed in Business
From our partners
Source: Read Full Article