The popularity of ChatGPT has reignited fears of artificial intelligence (AI) making workers redundant, but one Australian technology company, Appen, says the new wave of so-called generative AI still needs humans to make it truly useful.
In practical terms, ASX-listed Appen says ChatGPT will need the company's workforce to stop hallucinating – the industry's euphemism for when the technology sprouts utter nonsense.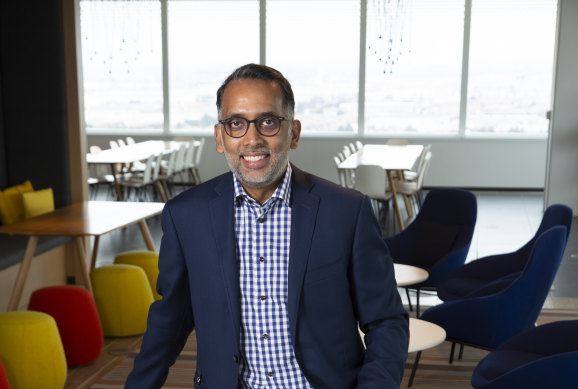 Armughan Ahmad, who took over as the CEO of Appen in January, is tasked with turning around the company.Credit:Fairfax Media
When tech industry veteran Armughan Ahmad joined Appen as its new chief executive a few months back, the embattled group was already making its presence felt in the nascent field of generative AI, which uses algorithms to create actual content – such as text, images and audio – rather than just analysing existing data.
The concept has been around for decades, but what is new is just how well the technology can mimic text, images and audio produced by humans.
Ahmad thought his biggest challenge, when starting at Appen, was educating everyone about generative AI's potential. The launch of ChatGPT on November 30 last year changed all that. "ChatGPT has done my job," he said.
As he explained to investors and analysts on the Appen conference call last month, the public adoption of ChatGPT has surpassed every technology adoption wave that preceded it. The internet took seven years to reach 100 million global users, Instagram took 2.5 years, TikTok 9 months. ChatGPT got there in just two.
"I was thinking I was going to come in and educate people on what generative AI is. The good news is, Chat GPT has done my job."
The tougher job for Ahmad and Appen is to explain to investors how the company can pivot its million-plus freelance workforce, which generates more than 70 per cent of its revenue from annotation services, to the far larger potential market of generative AI.
Ahmad was hired to find a solution to Appen's struggle with its annotation business – which has withered spectacularly as customers such as Facebook, Google, Apple and Microsoft get crunched by anaemic advertising revenue growth during the pandemic.
Appen's model involves using cheap labour to manually sort and tag images, videos and train AI algorithms. This work lays down the groundwork for the development of solutions like product search, or Apple's Siri.
Having a roster of heavyweight technology companies as clients played out well for Appen, with the company's shares peaking at $43.50 in 2020, valuing it at around $5 billion. However, Appen's stock has slipped considerably since then, trading as low as $2.22 this year.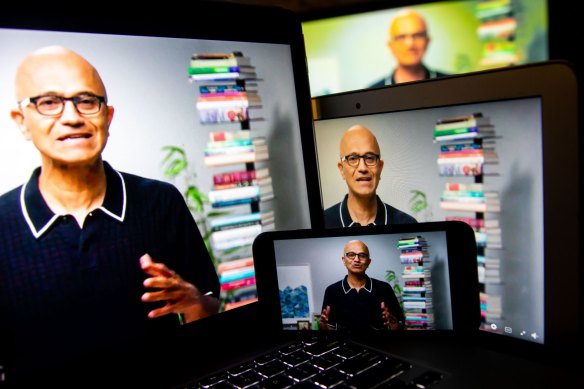 Microsoft CEO Satya Nadella is investing heavily in the company behind ChatGPT. Microsoft is an Appen customer. Credit:Bloomberg
With a mandate to turn things around, Ahmad's pitch to the market is that Appen has the tech platforms and the workforce to address the biggest problem facing generative AI as it moves from a fad to a real service.
In the non-generative AI sector, also referred to as deep learning, data is collected, labelled or annotated, and then pushed through AI machine learning models. A relevance check is then done via human feedback. That relevance check is what generative AI needs to stop hallucinating or, as Ahmad puts it "making up facts".
The problem of hallucinations was made clear by Google last month when its generative AI chatbot, Bard, triggered a $US100 billion ($152 billion) share plunge with a wrong answer.
"That is why they need to have a human reinforced learning model in place. And that is where almost 70-plus per cent of our business is. And that's something that we have already been working with (generative AI) clients for almost six months now."
Appen says some of its biggest tech customers have used its services for generative AI, but it does not have permission to use names just yet.
Other businesses are keen to follow the tech leaders.
"Since I've started here. I've met with over two dozen CEOs and chief information officers and chief data officers. And they're all saying that they want to understand exactly how we work with the big tech so that they can catch up quickly," Ahmad said.
Ahmad is already talking to some of Australia's biggest banks about using the technology for something as mundane, but expensive, as know your customer checks, which can take months.
A generative AI solution could cut this down to a few days. But the answer needs to be right.
"I think that's the story, quite honestly, that a lot of the large clients that I'm meeting with, one, they are understanding what it is, but they're worried that it has a lot of inaccuracies," Ahmad said.
"Imagine if you were a regulated bank, a regulated airline, regulated telecom provider … you can't afford to have a lot of those challenges, right?"
The potential for Appen is huge. It showed investors and analysts research from IDC at its half-year results, showing the market for AI training data will reach $US15 billion by 2026. Meanwhile, the new generative AI tools it unveiled last month gives Appen entry to the rest of the global AI spend, which is expected to total $US285 billion.
The tough part now is convincing the market.
Appen's stock is still well below $3 after the interim results, with the market all too aware of the challenges that lie in front of the group.
RBC Capital Markets has Appen as one of the tech stocks to avoid.
Tech analysts don't think Appen is hallucinating when it comes to its plans to upgrade its addressable market more than 10-fold with its bet on generative AI. Their concerns are all about execution, given Appen's expenses continue to outpace its revenue.
"With ongoing difficulty in forecasting end-customer demand due to project-based revenues and variability demand from a concentrated customer base, we see an increasingly cloudy outlook," Wilsons Equity Research analyst Ross Barrows said.
Wilsons recently lowered its price target on the stock to $2.11. Appen shares have not traded at these levels since 2016.
The Business Briefing newsletter delivers major stories, exclusive coverage and expert opinion. Sign up to get it every weekday morning.
Most Viewed in Business
From our partners
Source: Read Full Article