The mutual fund (MF) industry has seen a fair number of new entrants in the last 10 years but none of them have proved to be much of a challenge for the larger players.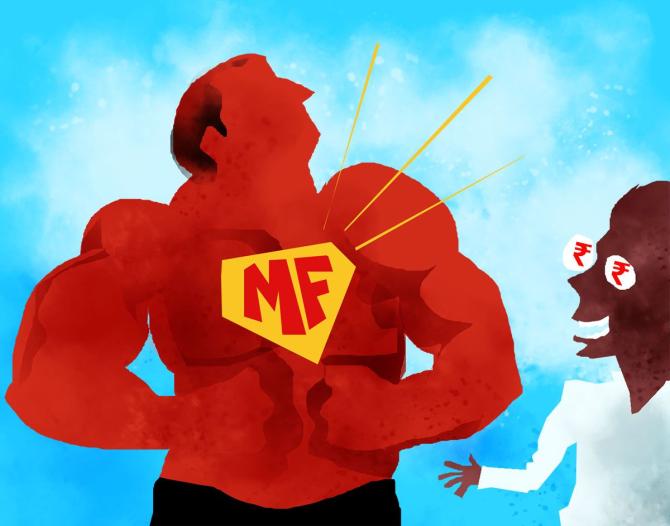 The list of top 20 fund houses, which manage over 90 per cent of the industry's total assets, continues to be dominated by players who have been in the business for more than a decade.
Bajaj Finserv MF may change that, say experts.
The Pune-based fund house, according to analysts, has the kind of brand recognition and distribution strength that's needed to break into the top league in a fiduciary business like MFs.
"Their biggest advantage is the outstanding brand that they created in the financial services industry.
"It would make it easier for distributors to sell their schemes," said Vijai Mantri, who has held chief executive officer and other senior positions in asset management companies (AMCs).
"For any new fund house, the first challenge is to get money.
"Fund performance is a worry for the future," he adds.
And this is where Bajaj Finserv's biggest strength lies.
The company's strong presence in two major financial services verticals — lending (Bajaj Finance) and insurance (Bajaj Allianz) — provides the upcoming asset management business a reach that only a few fund houses enjoy.
"Bajaj Finserv can tap the huge retail client base of Bajaj Finance of more than sixty million.
"It can also look for cross-sell opportunities to its insurance clients," said Deepak Jasani, head of retail research, HDFC Securities.
Bajaj Finance has a retail presence that's unlike any other non-banking finance company.
In its annual report for the 2022 financial year, Bajaj Finance pegged its customer count at 57.6 million.
During the year, the company disbursed close to 25 million loans and financed over 13 million purchases in consumer electronics, digital products, lifestyle products, lifecare, e-commerce and other retail spends.
This is just on the lending side, the company also has a large number of fixed deposit investors.
On the insurance side, Bajaj Allianz Life alone has an agent count of over 117,000, shows data from the Insurance Regulatory and Development Authority.
The company also offers general insurance, which has a separate agent base.
With some efforts on training, a good number of these insurance agents can be prepared to sell MFs, a strategy used by LIC MF.
While there is no surety that these distributors will limit themselves to Bajaj Finserv MF, the strategy, if deployed, is likely to deliver some advantage on the distribution side.
According to Kajal Gandhi, analyst, ICICIdirect, the addition of MF business is likely to benefit the group's other businesses too.
"With the addition of a new investment solution, higher client engagement will be a key benefit for Bajaj Finserv. With the addition of MF business, Bajaj Finserv will be able to offer a complete suite of financial solutions (from lending to investments) for its customer base which could lead to better stickiness," she said.
While the company secured the MF licence from the Securities and Exchange Board of India last week, the company was preparing for the MF foray since getting the in-principle approval in August 2021.
The company has already put together the core team for the AMC.
Ganesh Mohan, who was previously the group head of corporate strategy at Bajaj Finserv, has been appointed the CEO.
In January 2022, Bajaj Finserv hired Canara Robeco MF's equity head Nimesh Chandan to lead the investment team.
Soon after, the company roped in Aniruddha Chaudhuri from ICICI Prudential AMC to head the sales team.
The challenge for the new entrant, according to experts, would be delivering on expectations.
"The expectation from the brand would be high.
"This is an unsparing market, where one cannot falter on fund performance," Mantri said.
Source: Read Full Article