Save articles for later
Add articles to your saved list and come back to them any time.
Australia's television networks are opposing government attempts to put local content quotas on streaming service providers, saying the abundance of local content on free to air and streaming services shows there is no need for this intervention.
A submission by industry body Free TV, which represents Nine Entertainment (the owner of this masthead), Seven West Media and Network Ten, said it opposed the introduction of investment requirements for streaming services such as Amazon, Netflix and Ten's owner Paramount, given research that shows the screen production industry in Australia is booming.
"There is no demonstrable market failure which would suggest a need for the introduction of these obligations," it said.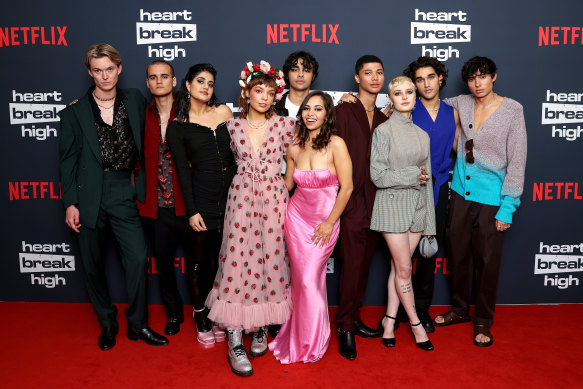 Netflix has invested in successful local shows, like global hit Heartbreak High, despite there being no requirement for it to do so. Credit: Getty
Last month, the federal government said it was considering forcing streaming giants, which are under no obligation to produce or even carry Australian content, to spend up to 20 per cent of the money they make locally on new Australian programs. Investment in sports or buying local films or programs will not count towards any new quotas.
Free TV says any benefits of the quota system being considered by the government would flow only to those viewers with the wealth and technology to access it behind streaming paywalls.
It also said quotas would increase competition for scarce production resources and could lead to streaming platforms squeezing out programming that is currently being developed by free-to-air stations.
"This will mean diminished Australian programs, sport and news available on free and accessible services, with more content pushed behind paywalls of (streaming video on demand services)," it says.
Industry sources have said Seven West Media, the owner of the Seven Network, and the only Free TV network member that does not have its own streaming service, has made a separate submission.
It expressed concerns about "unnecessary and potentially damaging market interventions" that could undermine the business model of the free-to-air networks and drive quality local content behind paywalls.
Seven West highlighted problems with Australia's lack of production facilities and cast and crew that mean the industry is having trouble absorbing even the current pipeline of local content that has been commissioned.
Paramount also sees it as an issue.
"We will continue to invest in local productions because that's what our audiences want," a spokeswoman said of local productions, which include The Last King Of The Cross.
"But we need the federal government to meet us halfway and strategically invest in the future growth of the screen industry by building more world-class infrastructure and studios, and creating training pathways for skilled crew, so we can increase production capacity."
Nine chief executive Mike Sneesby provided a similar warning in February, saying he might have to take production offshore if the government introduced rules that would mandate global platforms such as Netflix and Amazon Prime Video to spend a certain amount of money on local content.
"You get squeezed on cost, and you get squeezed down the pecking order in the great Australian projects that you can get access to. The unintended consequence of that is squeezing out local players," he said.
Prime Video, which has also made a submission, said it was committed to making local content.
"We look forward to continuing to engage in constructive dialogue and consultation with the government to ensure any new obligations are fair and sustainable," a Prime Video spokesman said.
Entities that have streaming services and a broadcast licence, such as Nine Entertainment (which owns streaming service Stan), Channel 10 (whose parent company runs Paramount+) and Foxtel (the owner of Binge), will be able to count commissioned content towards both of its requirements. The government says the move will encourage more joint productions between television networks and streamers.
Paramount+ said: "We do not silo our Australian commissions as streaming or free-to-air and any content quota must recognise the integrated way our business works across all platforms, which is in direct response to audience preferences."
The Business Briefing newsletter delivers major stories, exclusive coverage and expert opinion. Sign up to get it every weekday morning.
Most Viewed in Business
From our partners
Source: Read Full Article