Save articles for later
Add articles to your saved list and come back to them any time.
Australia is on track to have one of the most diversified and lowest-carbon electricity grids in the world, but new modelling shows more aggressive spending on renewable energy, carbon capture and hydrogen is needed to keep the nation's 2050 net-zero emissions target alive.
In its latest outlook report for Australia, energy research firm BloombergNEF's base-case scenario – what it considers the most probable and least-cost outcome based on current climate policies – charts that wind, solar and batteries will grow 6.5 times on today's levels by 2050 as the country's ageing fleet of coal and gas-fired generators face intensifying economic pressure.
"As a result, emissions from the power sector fall 85 per cent from 160 million metric tonnes of carbon dioxide on 2022 to 23 million tonnes in 2050 – the biggest contributor to Australia's economy-wide emissions reduction during this period," it said.
Spending across low-carbon power assets, transmission infrastructure, electric vehicles and decarbonising buildings and heavy industry will likely run to $1.2 trillion between 2022 and 2050, the report suggests – an average of $42 billion a year.
However, much more decisive action and spending would be needed for Australia to its achieve its target of becoming a "net-zero" emitter by 2050 and stick to the Paris Agreement's aim of keeping global temperature rises well below 2 degrees to help avoid the worst impacts of climate change.
Under this scenario, up to $1.9 trillion investment would have to be invested in the national energy system, representing an average of $68 billion a year.
Australia would have to install 300 gigawatts of wind and solar by 2050 – 102 gigawatts more than the base-case scenario – as well as 74 gigawatts of "dispatchable" capacity in the form of batteries, pumped hydro, hydrogen-fired gas plants and fast-start gas plants paired with carbon capture and storage to mitigate emissions.
Leonard Quong, BloombergNEF's head of Australia research, said the country had fought hard over recent years to change its global perception as a "climate laggard".
"But the country will need to reform existing policies and energy-market design to accelerate investment in both technologies and workforce needed for the transition if it is to realise the low-carbon opportunities that lay ahead," Quong said.
Controversially, BloombergNEF includes about 14 gigawatts of coal-fired power paired with carbon capture and storage in its net-zero scenario, which it says would operate like a "very expensive insurance policy" by being on standby to provide the grid at times when more supply is critically needed.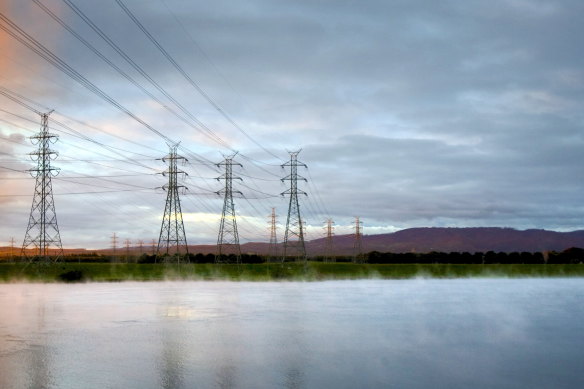 Australia's fossil fuel-dominated power grid on the east coast is on track to become one of the world's most decarbonised and diversified.Credit: Fairfax
This is because increased rates of electrification across the economy and the need for more renewable energy to produce hydrogen will lift demand for on-demand power to back up the vastly greater roll-out of wind and solar.
However, Quong acknowledges that any role for coal in a net-zero power system was far from a sure thing, as it would be "politically and socially complicated … and ultimately challenging".
The report suggests that carbon capture and storage, which is also controversial and there are doubts about its ability to function at scale, will "gain importance" in the 2030s.
Domestic demand for low-carbon hydrogen, meanwhile, would increase nearly 13 times by 2050 as heavy industry seeks alternative fuels for processes that cannot be electrified.
After the federal government has escalated its aspirations for Australia to become a world-leading exporter of green hydrogen – the fuel made when renewable energy-powered electrolysers are used to split water into hydrogen and oxygen – BloombergNEF has also charted a transition pathway for locally produced green hydrogen to account for 5.7 per cent of global consumption by 2050.
This would require a massive increase in wind and solar capacity to 812 gigawatts – 21 times more than today's levels – at an additional cost of $592 billion.
The Business Briefing newsletter delivers major stories, exclusive coverage and expert opinion. Sign up to get it every weekday morning.
Most Viewed in Business
From our partners
Source: Read Full Article