Save articles for later
Add articles to your saved list and come back to them any time.
Optus is still feeling the ill-effects of the cyberattack it suffered late last year, with the telco's customer growth taking a hit in the six months to March.
Chief executive Kelly Bayer Rosmarin on Thursday said while the cyberattack had interrupted the company's momentum in the second half of the year, subscribers were coming back to the telco.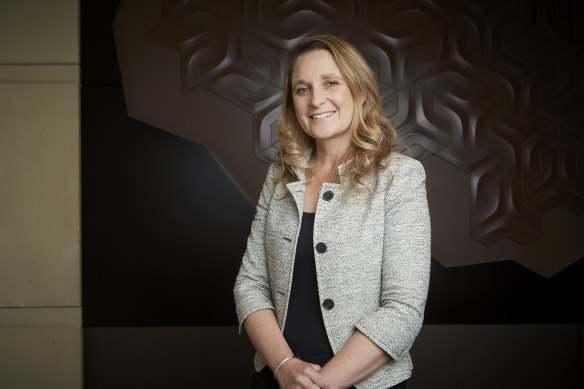 Optus CEO Kelly Bayer Rosmarin says the telco has regained its footing after last year's cyberattack.Credit: Natalie Boog
"We really have taken accountability for what happened, apologised and worked hard to regain trust with our customers and market, and I think our efforts have been recognised and that's why you see the return to growth," she said. "Had it not been for the cyberattacks, we would have expected our results to be even stronger."
During the year, Optus added 425,000 subscribers to its mobile customer base, but about 304,000 of that was in the first half. Net subscriber growth was less than half that figure, at 121,000, from September to March.
In September, Optus' systems were breached in one of the largest cyberattacks in Australian history, accessing personal details of millions of the telecommunications giant's customers.
Rosmarin said it was "towards the end of December" that Optus returned to a net customer-positive position.
Most of the growth came from new rather than returning customers, with the return of travellers, students and migrants helping bolster Optus' numbers.
Average revenue per user (ARPU) – a key metric for telcos – remained mostly flat across the year despite price increases. Revenue was subdued on the back of a greater proportion of lower-paying prepaid customers, lower domestic wholesale roaming and a decline in handset insurance revenues after that business was sold.
However, for the full year, Optus' earnings before interest, tax, depreciation and amortisation (EBITDA) grew 4.5 per cent, excluding the National Broadband Network migration revenue, where Optus is paid for every customer that it migrates to the NBN.
Rosmarin said Optus would be matching Telstra's prices on prepaid services after the rival lifted its prepaid prices by 20 per cent. However, she said the company was yet to determine whether it would also raise the prices for postpaid customers.
"We're taking our time to really understand the cost-of-living pressures on customers," Rosmarin said.
Meanwhile, increased price competition in the fixed wireless access space saw Optus' revenues in that segment decline by 7.4 per cent.
UBS analyst Lucy Huang said while Optus faced higher costs – including content costs and energy charges – its margins had improved in the second half.
"Operating expenditure grew 6 per cent year-on-year in the first half, suggesting inflationary cost pressures continue to impact the business," she said, but noted a "slow but slightly improving margin profile".
However, looking at the industry more broadly, Huang said a 0.3 percentage point increase in the company's retail postpaid churn rate to 1.5 per cent in the second half suggested Optus continued to face some headwinds.
"Overall, Optus' weaker mobile subscriber net adds momentum in the second half suggests competitors likely continuing to take market share due to the potential lingering impacts from Optus' cyber breach," she said.
The Market Recap newsletter is a wrap of the day's trading. Get it each weekday afternoon.
Most Viewed in Business
From our partners
Source: Read Full Article