Save articles for later
Add articles to your saved list and come back to them any time.
What does a professional services firm actually sell? Knowledge and specialist expertise, obviously, but ultimately its only assets are its people, and its core product is trust.
Clients provide them the most intimate access to their affairs, trusting that the firms will use their knowledge and expertise to the client's advantage, putting the client's interests ahead of their own.
PwC will survive this scandal, but the damage will be immense. Credit: Joe Armao
There is an expectation that the firms, particularly the big multi-jurisdictional accounting and law firms, will operate within an ethical framework and that the senior figures within them will be people of unquestionable integrity.
It's patently obvious that when a group of PwC partners exploited – for the firm's and their own profit – the confidential information they held after consulting to the Australian Treasury on new anti-tax avoidance laws, they breached the trust the government had in the firm, along with the spirit, if not the precise letter, of the confidentiality agreement the firm had signed.
In the open letter PwC's acting chief executive Kristin Stubbins released on Monday, she said that no confidential information was used to enable clients to pay less tax.
Technically, that might be true. PwC waited for the moment the then-treasurer, Joe Hockey, announced the multinational anti-avoidance law on budget night in 2015 before it began marketing its advice for circumventing that law to multinational clients.
Professional ethics, however, aren't about technicalities, which PwC has belatedly (and under extreme pressure) acknowledged, with Stubbins apologising for betraying the trust placed in it and for the breaches of confidentiality, describing its actions as "completely unacceptable".
PwC has been chasing its tail ever since its actions became generally known earlier this year, with its response reflecting, but lagging, the escalating outrage.
Its former CEO, Tom Seymour, stood down earlier this month, and on Monday another nine partners were directed to go on leave pending the outcome of investigations the firm has commissioned from Ziggy Switkowski and the UK law firm Linklaters.
The chairs of PwC's governance board and risk committee have stood down, two independent non-executive directors are to be appointed, and the firm says it will ring-fence the services it provides to federal government departments and agencies.
What all that activity says is that PwC didn't have the appropriate processes or governance standards and structures in place, and that at least some of its partners – the people most responsible for ensuring the firm acted professionally and ethically – failed their responsibilities.
A small group saw an opportunity to profit from marketing their inside knowledge of the new tax laws to multinational companies, and chased it without hesitation and without regard for the ethics of their actions.
Surely, someone inside the firm should have recognised the egregious breach of trust and ethical standards involved in using the firm's insider knowledge and sounded an alarm bell.
It doesn't matter how many reviews PwC commissions, how many partners it places on leave or how it tries to quarantine its lucrative government consulting practice, the damage to its brand and its business has already occurred, and not just in Australia.
The big accounting firms are actually networks of individual but affiliated practices, designed to limit the liabilities of the various firms from the actions of others in a different jurisdiction.
In this instance, however, the nature of the advice PwC in Australia was trying to sell to existing and new multinational clients means co-branded firms in the UK, Ireland, the US and elsewhere have been drawn into the scandal and now have their reputations, at least, also at risk.
Whatever the legal liabilities (the Australian Federal Police are investigating), the brand damage to PwC here and offshore is significant and will cost the firm reputation and income.
It faces the loss of the several hundred millions of dollars a year it had been generating from consulting to the federal government and its agencies if the government decides to put it in the sin bin, which it should.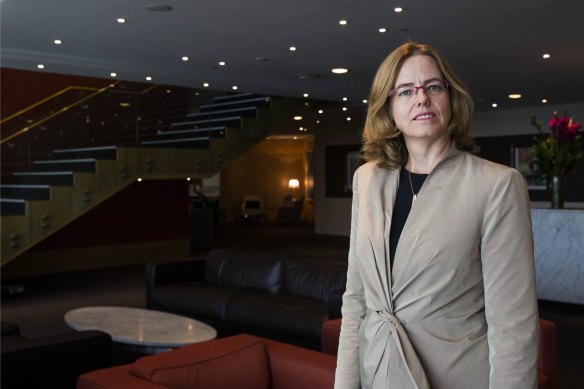 Acting PwC chief executive officer Kristin Stubbins conceded on Monday that PwC's tax practice had a culture that allowed inappropriate behaviour and had not properly held its leaders, and others, to account.Credit: Jessica Hromas
But what state government or state agency would want to deal with a firm that has demonstrated such an appalling lack of ethics? Will PwC's blue-chip corporate clients continue to do business as usual with a firm that has acted so cynically and elevated its own profits above its client's interests? Indeed, a firm that acted to directly undermine its client's interests.
Will offshore governments and their agencies shun the firm's international affiliates? PwC's international partnerships are clearly concerned, not only commissioning Linklaters to investigate, but parachuting some of the London firm's senior partners into Australia to try to help stabilise the situation before it becomes a global crisis for the PwC network.
Modern accounting firms are conglomerates, where the traditional audit and accounting practices are as much about relationship-building to provide an entry point for the sale of more lucrative services, as they are profit centres. It's the consulting businesses that drive the firms' profits and partners' incomes.
The fact that they provide an array of services inherently raises the prospect of conflicts, which is why they are supposed to put great emphasis on ethics and culture, and have the structures in place to police behaviours and protect their brands.
Stubbins conceded on Monday that PwC's tax practice had a culture that allowed inappropriate behaviour and had not properly held its leaders, and others, to account.
While the firm is, quite transparently, trying to confine the scandal to its tax practice and partners, protecting its other businesses (including its Canberra consulting business) from the fallout, the firm's leadership and the broader culture have also clearly failed if one of its key business units was able/allowed to elevate profit over integrity.
PwC will be badly damaged by the fallout from the scandal. It will lose business and profits. It will be less attractive as an employer. Anyone connected with the affair will be less employable elsewhere.
It will, however, survive, just as it – and others of the big four firms that dominate the global industry – have survived major and costly scandals before.
The world can't operate with only a "Big Three", which shows how powerful these firms are – and how vital it is for the governments and businesses that rely on their knowledge and expertise that they can be trusted.
The Business Briefing newsletter delivers major stories, exclusive coverage and expert opinion. Sign up to get it every weekday morning.
Most Viewed in Business
From our partners
Source: Read Full Article