By Nick Toscano
Save articles for later
Add articles to your saved list and come back to them any time.
Mike Cannon-Brookes has an enduring dream. The year is 2030, and a giant power cable runs 4200 kilometres along the ocean floor from Darwin to Singapore, exporting Australia's boundless sunshine into Asia. Building it probably won't be easy – a "big swing", Cannon-Brookes calls it. But big swings, he says, are what Australia needs to become a renewable energy superpower.
Two things the climate emergency calls for most are bold ambition to reduce the world's output of planet-heating greenhouse gas emissions, and the money to help make it happen. Last week, Cannon-Brookes left little doubt that he has both. The co-founder of software company Atlassian struck a deal to acquire the collapsed $35 billion Sun Cable project, through which he wants to build the world's biggest solar and battery farm in the Northern Territory, then the longest undersea transmission line to connect it to renewables-starved power grids of Asia.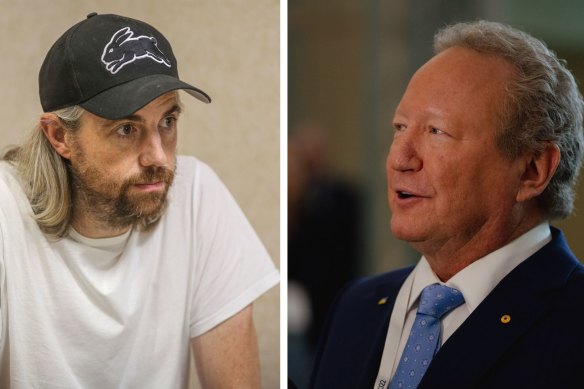 Billionaires Mike Cannon-Brookes and Andrew Forrest fell out over the concept for the Sun Cable project.
The sun above Australia provides 58 million petajoules of solar radiation each year – enough to supply 10,000 times our total energy consumption – yet just 400 petajoules are converted to electricity today. What if Australia could harness more of that, and what if it could share its solar resource with the world? Cannon-Brookes sees the biggest opportunity in Singapore, a country that depends on gas for 95 per cent of its power and lacks space to build renewables of its own.
But even billionaires' ambitions aren't a sure thing to become reality. A falling-out between Cannon-Brookes and mining magnate Andrew "Twiggy" Forrest – formerly the two lead investors in Sun Cable – over ongoing funding arrangements and whether the subsea power link remains viable is what plunged the company into voluntary administration earlier this year. And significant questions about its prospects remain.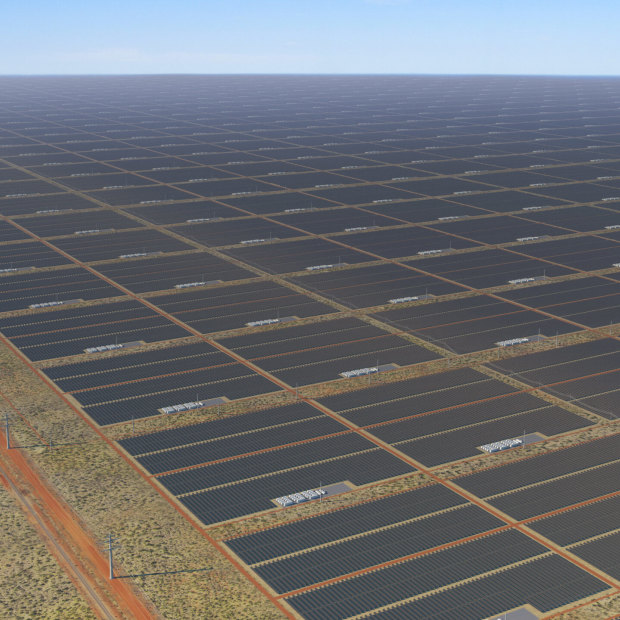 A rendering of the Sun Cable resource project.Credit: Artist's impression
Sources close to Sun Cable's former board, requesting anonymity to speak freely on the matter, said Forrest became concerned late last year about a succession of blowouts in the costs of conducting subsea surveys and laying the high-voltage 4200-kilometre cable, which would be about six times longer than today's longest underwater transmission line, the 720-kilometre North Sea Link stretching from Norway to the United Kingdom. Singapore, meanwhile, had also gained numerous proposals from other competitors who were planning renewable energy supply projects in more favourable locations than Australia.
Forrest continued to support building Sun Cable's solar and battery farm near Tennant Creek in the Northern Territory, and its 800-kilometre overhead transmission link to Darwin, but no longer backed the Singapore connection.
Some have speculated that Forrest had his eye on using the solar and battery farm's output to help drive his ambitions to manufacture green hydrogen – a clean fuel that requires vast amounts of renewable energy to power electrolysers to split water into hydrogen and oxygen. Forrest's Fortescue Future Industries is proposing several green hydrogen projects across the country, including in the Northern Territory.
Cannon-Brookes' private investment company, Grok Ventures, insisted there would be enough generation coming out of the project to provide clean energy overseas and to various projects in the Northern Territory. It stressed that it continued to see the intercontinental power link as critical to Sun Cable's success, attract further investor capital and create a lucrative new industry for Australia. "This was the reason the founders started the company, and the reason investors invested in the company, in the first place," Grok said.
So irreconcilable were the billionaire pair's differences that Sun Cable collapsed into voluntary administration on January 11. Administrator FTI Consulting was appointed, and began a sale process three weeks later.
Both Grok and Forrest's privately owned Squadron Energy accessed the Sun Cable data room in March. Squadron, concerned about cost and aspects of the project that it considered to be running well behind where they needed to be, is said to have quickly decided against lobbing a final binding bid. Instead, having recently become the biggest owner of clean energy in Australia with its acquisition of CWP Renewables, Squadron decided to prioritise capital to develop other projects with better connectivity to the east-coast electricity grid, some of which already have power-purchase agreements in place. Still, it remained engaged as a potentially interested party, so as not to remove any competitive tension from the sale process.
Others close to the sale process raise eyebrows at the suggestion that Squadron was never serious. They confirmed that the company had taken part in initial, non-binding talks with administrators on a potential price, and questioned why Squadron would spend so much money buying out Sun Cable's other creditors if it was all just a bluff.
Grok ultimately formed a consortium with Quinbrook Infrastructure Partners, a company in which Grok already holds a stake. Quinbrook is a global investor with extensive experience developing major solar power and storage projects in the United States and United Kingdom.
Quinbrook's involvement in the consortium, however, means the ambitious Sun Cable project will not be developed all at once. David Scaysbrook, Quinbrook's Australian-based managing partner, convinced Grok to break it into stages and "phase" its roll-out.
The first phase – the solar and battery farm plus the transmission link to Darwin – is where Quinbrook will limit its involvement. Here it sees a domestic-focused project that makes compelling "financial and business sense", although the initial size may be smaller than the originally envisaged 20 gigawatts, according to a source familiar with the firm's discussions. "The question then becomes, will customers in Asia want to take any of the power?"
After administrators FTI named the Grok-Quinbrook consortium as the winning bidders for Sun Cable, the plan now is for Quinbrook to be brought up to speed through talks with Sun Cable's management in the coming weeks. It may be some months before Quinbrook decides to green-light phase one, but it sees significant promise in it, and believes it can use its global experience in attracting supplies, large customers such as power-hungry data centres, and other key investors.
Grok, meanwhile, remains committed to the full scope of the project, insisting Sun Cable can achieve long-term success by delivering clean and competitive electrons not only to Australia but the world. It continues to pursue customer offtake agreements both in Singapore and Darwin.
"It's time to stretch our country's ambition," Cannon-Brookes says.
The Business Briefing newsletter delivers major stories, exclusive coverage and expert opinion. Sign up to get it every weekday morning.
Most Viewed in Business
Source: Read Full Article