Foreign investment in India's start-ups has plummeted 72 per cent to $4.58 billion so far, from $16.2 billion during the same period last year.
As the so-called funding winter for India's start-ups lingers on, the venture capital order in the country is getting upended.
Foreign firms such as Tiger Global, Sequoia, SoftBank, Accel, and Y Combinator have nearly shut their taps.
Tiger and Accel have seen their investments fall by 97 per cent in 2023 so far, compared to the same period last year.
Sequoia's is down 95 per cent, Y Combinator's 87 per cent, and SoftBank's 80 per cent, according to data from Tracxn, the market intelligence platform.
Foreign money plays a crucial role in start-up funding in India.
Of the $26.8 billion that Indian start-ups raised in 2022, as much as $26 billion came from rounds where foreign investors participated.
This year, though, foreign investment in India's start-ups has plummeted 72 per cent to $4.58 billion so far, from $16.2 billion during the same period last year. The number of deals fell from 852 to 241.
Tiger is often called the unicorn machine of India, having backed Flipkart, Ola, Zomato and 37 others that went on to become unicorns.
Accel was an early backer of Flipkart and Freshworks. Japan's Softbank has invested in OYO, Delhivery, Paytm, Meesho, Blinkit, Lenskart, and many others.
On the other side of the spectrum, home-grown VC firms have raised significant capital in the last two months for India-focused investments.
Multiples Alternate Asset Management leads the pack with a $640 million fund, followed by 3one4 Capital ($200 million), Chiratae Ventures ($120 million), and Stride Ventures ($100 million).
Matrix Partners, which has Ola and Razorpay in its portfolio, extended the target size of its India-focused fund to $525 million from $450 million.
However, investments by Indian VC firms have declined as well, according to the Tracxn data, to $1.75 billion so far this year from $12.3 billion during the same period last year.
That means all the fundraising has been adding to the dry powder rather than investments.
As of March 2023, India-focused private equity and venture capital players were sitting on dry powder — the industry term for available but undeployed funds — worth $15.64 billion, up from $12.88 billion at the end of 2022. This is the highest uninvested capital since 2016, according to investment data firm, Preqin.
Some foreign VCs remain unfazed. Anandamoy Roychowdhary, Surge Partner, Sequoia Southeast Asia, recently told Business Standard it had been "business as usual" for the firm's early-stage portfolio companies. Sequoia's portfolio includes the likes of Cred, Dailyhunt, HealthKart, Ixigo, and Meesho.
California-based start-up accelerator Y Combinator, known for backing Zepto, Groww and Meesho, remains the most active foreign investor in India so far this year with 14 deals, followed by the likes of Sequoia with 11, and Accel with eight.
"Globally, firms deployed their funds at a much faster pace in 2021 and focused on portfolio management in the following year, supporting their companies in navigating the several macro shocks," says Nruthya Madappa, Partner, 3one4 Capital, an investment platform for early-stage start-ups, explaining the slowdown.
Optimism remains about foreign firms as well. "Global investors are still bullish about the long-term opportunity India offers and are willing to invest in VC funds with focus on India," says Ninad Karpe, Partner, 100X.VC, an Indian firm that invests in a batch of start-ups, called cohorts, at a time.
As a case in point, Sequoia, in June last year, raised $2.85 billion to fund Indian and Southeast Asian start-ups — its largest such fund for the region.
The following month, San Francisco-based Lightspeed Venture Partners announced a massive $500 million fund for early-stage start-ups in India. Accel, Elevation Capital and Nexus Venture Partners have also unveiled large new India funds.
At some point, experts say, the dry powder will begin to get fired as investment ammunition. And then the funding winter will begin to thaw.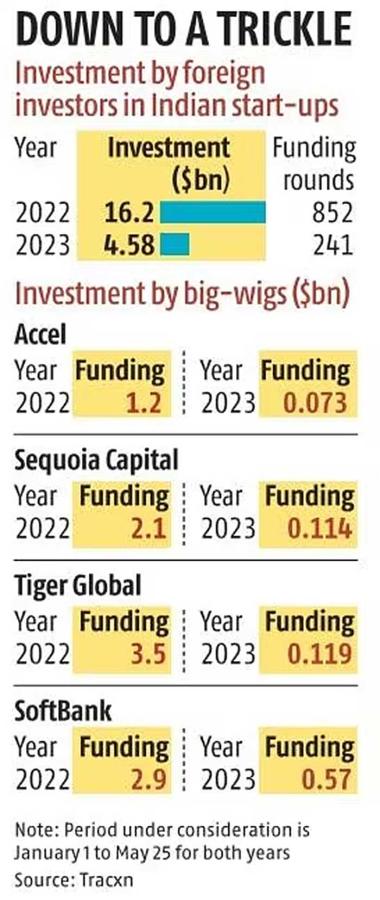 Feature Presentation: Ashish Narsale/Rediff.com
Source: Read Full Article