Save articles for later
Add articles to your saved list and come back to them any time.
What began as a trickle at the start of the year has turned into a river of retailers now confessing that consumers have succumbed to the financial injury sustained from relentless interest rate rises.
It is now the retailers that are feeling the referred pain as consumers have reached the spending cliff that has been on the horizon for more than six months.
Discount apparel group Best & Less is the latest to warn of a likely collapse in profit but companies covering everything from wines, baby products, pizzas, jewellery, gourmet food and even candles have confessed to a coming slump in sales.
It is shaping up to be an unpleasant six months for retailers in the first half of this calendar year. But the next six-month period is looking ugly – with the extent of the carnage becoming clearer when profit season begins at the end of next month.
A slowdown in consumer spending started to show through in official statistics in December but the June quarter seems to have marked the tipping point between slowing and near standstill.
And while some retail operators will tolerate this slowdown in spending better than others, there is no escape.
Each retailer will need to compete for a smaller pool of discretionary dollars – whether this is a shoe peddler or a department store.
Those retailers that have found themselves with too much inventory have been forced into applying big markdowns and are now faced with sliding sales and eroding margins.
Discounting becomes an industry-wide virus as others are forced to join in or find themselves overstocked with seasonal items clogging up warehouses.
The contagion effect could reach the retail property landlords that find it difficult to collect rents. How this plays out depends on the length and depth of what is already being dubbed a consumer recession.
Each retailer will need to compete for a smaller pool of discretionary dollars – whether this is a shoe peddler or a department store.
The minutes of the Reserve Bank June meeting that were released on Tuesday recognised that "retail volumes had declined in the March quarter, despite strong population growth, and liaison with retailers suggested that conditions had softened further in the June quarter".
But it didn't tip the scales for the hawkish central bank, which lifted rates 25 basis points and warned of more to come.
UBS's most recent survey of Australian consumers illustrates a slide in their financial outlook as a greater proportion of their income is being spent on what it calls the "pain categories" of rent, utilities and insurance.
This is the slowdown we had to have, but real pain has taken longer to emerge thanks to distortive effects of COVID-19, which left some households in the happy position of having amassed a war chest of savings.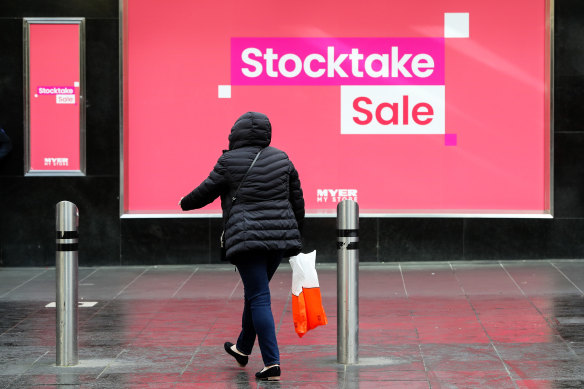 There's plenty of store sales, just not enough customers.
The Reserve Bank also discussed the unevenness in household spending, noting that some households had drawn on the substantial additional savings built up during the pandemic, while other households were facing considerable budget constraints, according to its June meeting minutes.
But households are now rapidly chewing through those savings and will continue to do so as interest rate rises hit those borrowers who are churning from cheap fixed loans to expensive variable ones.
That group of households who have been struggling with the higher cost of living for many months are being joined by those who hadn't.
"The overall picture is households in aggregate have 'spent to the cliff', with the 2023 first-quarter household savings ratio already dropping to 3.5 per cent, the lowest since the GFC," according to the UBS survey.
Middle-income households are now showing clear signs that the transmission of pain from the rate rising cycle (which began over a year ago) is now hitting hard, according to this investment bank's survey.
Hopes that inflation and higher interest rates will be shorter lived continue to fade. So retailers will need to batten down the hatches for what might be a more protracted period of pressure.
The Business Briefing newsletter delivers major stories, exclusive coverage and expert opinion. Sign up to get it every weekday morning.
Most Viewed in Business
From our partners
Source: Read Full Article