'India's edtech and start-up story will be in danger.'
Sometime in November 2018, Byju Raveendran, founder and CEO of edtech giant Byju's, walked into a store in Dubai airport where his attention was caught by the gaming products of Osmo, a US-based educational gaming company.
The products were displayed prominently but no one was buying them.
For the next couple of hours, he turned into a salesperson.
"I sold the products to almost every single parent who was coming with kids to that store because I was able to explain to them that the skills acquired using Osmo's products are not taught in school," said Raveendran in an interview.
The next thing he did was to call his colleague in the US, asking him to reach out to Osmo in San Francisco.
"It was a weekend. The same evening, we held a video call and I realised the potential of education when I saw a few more things."
In January 2019, Byju's closed Osmo's acquisition, its first overseas, for $120 million in a stock-and-cash deal.
The acquisition was done at an opportune time when the Bengaluru-headquartered company was raring to go for its global foray.
Since then, Raveendran has been on an acquisition spree leveraging the capital it raised from investors. This allowed it to tap into new categories and dominate the market.
This also helped it to increase its lead over competitors such as SoftBank-backed Unacademy, Vedantu, Simplilearn and traditional education institutes.
There was no looking back. In April 2021, Byju's acquired brick-and-mortar test preparation firm Aakash Educational Services for nearly $1 billion.
Raveendran closed the deal over Zoom. The stock-and-cash deal is the biggest in the education space.
The same year it acquired Singapore-headquartered Great Learning, a leader in professional and higher education, for $600 million and US-based digital reading platform Epic for $500 million.
Before that in August 2020, it acquired WhiteHat Jr, which teaches coding to children, for $300 million.
This hyper-growth focus was evident in the firm's valuation climb. It took almost five years for Byju's to reach about $8 billion by January 2020.
But it took the company just 1.5 years to reach a valuation of $15 billion by April 2021 and $22 billion by March 2022.
In June 2021, Byju's became the most valuable start-up at $16.5 billion, surpassing fintech company Paytm's $16-billion valuation. This happened after raising about $350 million from UBS Group and Zoom Founder Eric Yuan, Blackstone and others.
The pandemic played a key role in the growth of Byju's and other edtech companies.
The country's $180 billion education sector went online to adapt to the new reality.
People were conducting virtual surgery classes to teaching rhymes to toddlers online. And this opened up big opportunities for edtech players.
The pandemic actually helped Byju's to become a decacorn in 2020. This means it crossed a $10.5 billion valuation.
Byju's now has over 150 million registered learners globally and a presence in 120 countries.
In just six months during the lockdown, it added 45 million new students to its platform.
But in the recent past, Byju's has been in the news for all the wrong reasons.
The slide started in 2022, including sacking employees, alleged harsh and "abusive" work culture, inability to file its financials and challenges in raising fresh capital amid a funding winter and macroeconomic uncertainty.
Last year, the ministry of corporate affairsasked Byju's to explain why it hasn't filed audited financials for FY21. It also sent Byju's parent company Think and Learn a letter asking for an explanation for the 17-month delay in filing audited accounts.
Other edtech unicorns such as Unacademy, upGrad, Vedantu, Physics Wallah and Eruditus, have filed their FY22 financials. Byju's should have done so by September last year.
Before this, the company filed its 2020-21 results in September 2022, a nearly 18-month delay.
The firm was targeting to be profitable by March 2023. Instead, it posted losses of Rs 4,588 crore in FY21, 19 times more than the preceding year, according to the latest available financial report.
Early this year, Byju's handed pink slips to another 900-1,000 employees. Company sources said the move was part of the 'optimisation' strategy that the edtech giant had announced last year that included sacking 2,500 workers.
To add to its woes, the Enforcement Directorate recently conducted search and seizure operations at three premises of Byju's under the Foreign Exchange Management Act. These searches allegedly revealed that the company received foreign direct investments of about Rs 28,000 crore between 2011 and 2023.
Last month, US asset manager BlackRock reduced the valuation of its share in Byju's — this time to about $8.4 billion.
Byju's latest valuation, as estimated by BlackRock, is around 62 per cent down from the peak of $22 billion in April 2022.
Before this, BlackRock had reduced the start-up's valuation to $11.5 billion (as of December 31, 2022).
Meanwhile, US entity Byju's Alpha was recently sued in Delaware by an agent of lenders to whom the company owes $1.2 billion.
The lawsuit was filed by Glas Trust Company and investor Timothy R Pohl against Byju's Alpha, Tangible Play, and Riju Ravindran, the younger brother of the founder.
The two companies being sued are units of Think and Learn Private, edtech firm founded by Byju Raveendran.
Lenders have accused Byju's Alpha, an inoperative entity with no employees, of hiding $500 million.
Byju's recently said the Delaware court has given an interim order asking the edtech giant to maintain status quo with Byju's Alpha, but the company rejected as 'bewildering' claims made by litigants.
Byju's has also filed a suit against US-based investment management firm Redwood, challenging a demand for an accelerated payment of a $1.2 billion term loan B (TLB) facility and to disqualify the lender for its 'predatory tactics'.
Byju's also skipped an interest payment of about $40 million on the loan, becoming the only Indian start-up to have defaulted on a US dollar loan.
Byju's, which filed the suit in the New York supreme vourt, said that contrary to the conditions of the loan facility, Redwood bought a significant portion of the loan while primarily trading in distressed debt.
Given that legal proceedings are now on in both Delaware and New York, the entire TLB is disputed, a company statement said.
A group of ad hoc lenders, who collectively own more than 85 per cent of Byju's term loans amounting to $1.2 billion, said the recent lawsuit filed by the edtech firm in the New York supreme court lacks merit.
VC players think Byju's fundraise efforts may be impacted because a chunk of this will also be used for paying the legal fees.
Yet the firm recently raised Rs 2,000 crore (Rs 20 billion/$250 million) from US-based investment firm Davidson Kempner Capital Management.
However, the legal battle between Byju's and lenders in the US and the skipped interest payment of $40 million has made Davidson Kempner 'extremely concerned and they may consider slowing down the flow of various tranches of that capital to the company', according to the people familiar with the matter.
Byju's woes have also impacted the edtech start-up brand.
As a banker pointed out, on condition of anonymity, "In the early years of the ecommerce growth story in India, if Flipkart sneezed, the entire industry would catch a cold. The same is happening in the edtech space."
"If anything goes wrong with Byju's, India's edtech and start-up story will be in danger."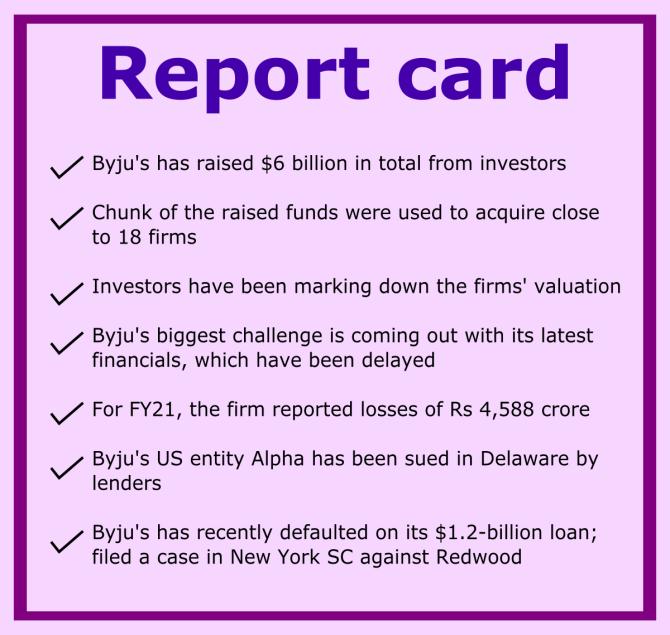 Feature Presentation: Ashish Narsale/Rediff.com
Source: Read Full Article