Save articles for later
Add articles to your saved list and come back to them any time.
Wealth management giant BlackRock says Australia has become one of the most attractive destinations to invest in the global shift to clean energy as coal-fired generators accelerate their closures and the government aims for the grid to be mostly powered by wind and solar by 2030.
Power sector leaders and the Australian Energy Market Operator are worried that investment in new generation, storage and transmission projects is not happening fast enough to compensate for the rapid withdrawal of coal power stations, which struggle to compete with cheaper renewables but still provide the grid with critical baseload power.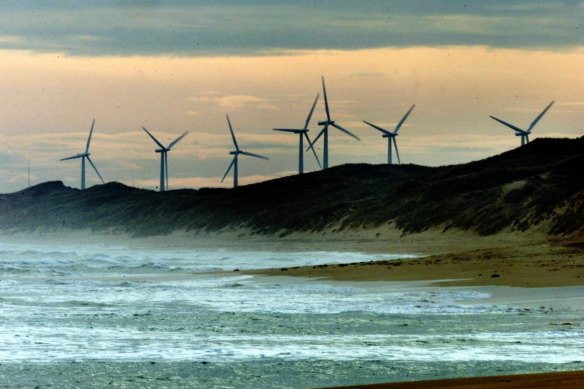 BlackRock, the world's biggest asset manager, says Australia is going through one of the fastest energy transitions globally.Credit: Joe Armao
Industry figures for the first three months of 2023 reveal no new financial commitments on large-scale generation projects were made.
However, US-based BlackRock, which oversees more than $US9 trillion ($13 trillion) of investor funds and ranks as the world's biggest asset manager, on Thursday said the private sector was increasingly demonstrating a willingness to invest in Australia, seeing significant opportunity in the country's energy transition.
"Australia, over the past few years, has really risen up the rankings in terms of becoming one of the most attractive destinations for private capital in the energy transition," said Charlie Reid, BlackRock Asia-Pacific's co-head of climate infrastructure.
While coal-fired power supplies about two thirds of Australia's electricity today, the Albanese government has set a target for the grid to source 82 per cent of its power from renewables by the end of the decade.
"Australia is going through one of the most aggressive energy transitions globally – going from what was 90 per cent fossil fuel to over 82 per cent renewable by 2030," added Reid.
"We see significant opportunities for battery storage, significant opportunities for small-scale solar, we do see opportunities in offshore wind, and we do see attractive opportunities emerging in green hydrogen, but those are going to take longer to come through."
The comments come after BlackRock revealed it had raised more than $500 million from local and offshore investors to co-fund the $1 billion Waratah Super Battery in NSW. With 850 megawatts and 1680 megawatt-hours of capacity, the battery will be the largest grid-scale battery in the Southern Hemisphere once completed, and rank among the biggest anywhere in the world.
It is being designed to act as a "shock absorber" for when the grid faces sudden power surges, including from bushfires or lightning strikes, and will receive quarterly payments under a Systems Integrity Protection Scheme with TransGrid to make the network more reliable and resilient and increase its capability to maximise the flow of power to demand centres.
In a move to drive more private funds into storage projects including batteries and pumped hydro, Climate Change and Energy Minister Chris Bowen this week launched a federal scheme to unlock up to $10 billion of investment in clean power projects that can generate and store energy to dispatch it when needed, including when the wind isn't blowing and the sun isn't shining.
The government launched the scheme on Wednesday in NSW, where it is expected to underwrite private investment in 550 megawatts of on-demand power.
"Today's announcement will drastically improve energy security with large-scale batteries and other zero-emission technology that can quickly dispatch cleaner, cheaper renewable energy when it's needed," Bowen said.
Energy generators will bid for long-term underwriting agreements with the federal government, offered under a 'floor and ceiling' model. The scheme guarantees a minimum price for electricity for the provider and sets a maximum price for buyers to limit power bill costs.
BlackRock's ability to secure co-funding from institutional investors on top of $100 million from the federal government's green bank, the Clean Energy Finance Corporation, demonstrated that the "capital is there, and it can come in at scale", Reid said.
"We have a total portfolio of around 2 gigawatts [of battery projects] now, including the Waratah Super Battery, in the Australian market," he said. "We will be bringing several assets through to financial close and the start of construction in the coming nine months."
Ben Squires, chief investment officer at superannuation fund NGS Super, which contributed capital for BlackRock's Waratah Super Battery, said it was excited to be investing in a critical piece of future energy infrastructure that could generate long-term value.
"Investments such as these support NGS Super's target of creating a carbon-neutral investment portfolio by 2030," Squires said.
The Business Briefing newsletter delivers major stories, exclusive coverage and expert opinion. Sign up to get it every weekday morning.
Most Viewed in Business
From our partners
Source: Read Full Article