Save articles for later
Add articles to your saved list and come back to them any time.
The chief executive of Deloitte has refused to tell a parliamentary inquiry when he first came to learn about an allegedly fraudulent investment scheme run by former partner Amberjit Endow, as he revealed he remains an investor and is owed money.
It also emerged during a Senate estimates hearing into consulting firms on Monday that an internal investigation at Deloitte found 12 partners had personally invested in the scheme, but no internal policies had been breached.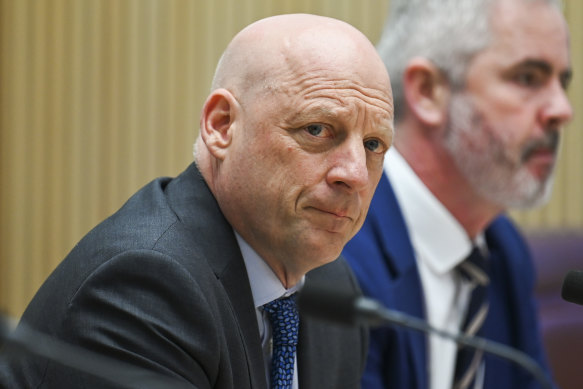 Adam Powick faced questions at a parliamentary inquiry on Monday. Credit: Martin Ollman/AFR
In February, this masthead revealed that Endow, a partner at Deloitte for 13 years, ran a suspected multimillion-dollar fraud while working at the firm. Worried investors, who estimate the suspected fraud could involve tens of millions of dollars, have been unable to contact Endow since December.
Endow promised investors returns of up to 40 per cent in six months for lending him money to purchase what he claimed were Indian government-issued bonds linked to a large, ongoing government infrastructure program that is working to improve India's rural road network. He said he was servicing the project as a contractor, according to documents he provided investors.
Investors told this masthead earlier this year that Endow's pitch centred on his trusted, senior position at Deloitte and the fact some Deloitte partners, as well as the firm's chief executive, Adam Powick, were also investors in his scheme.
Powick revealed in February that he was an investor in the scheme but said he had no idea his name was allegedly being used to recruit more investors and that he never encouraged or invited anyone to join.
On Monday, Greens senator Barbara Pocock repeatedly asked Powick during the estimates hearing when he became aware of the scheme. He said he was not prepared to talk about it.
"That's information that I consider to be personal and private," Powick said.
"Well, I don't," replied Pocock.
"Well, I do," said Powick.
"So you're not willing to provide information about when you learnt about the scheme?" asked Pocock.
"No. I was an investor in the scheme. I'm very happy to answer questions about that, senator, I have no issue with that. But what I consider to be personal, private information, I'm not prepared to talk about that," said Powick.
He told the inquiry he had declared the investment in line with Deloitte's internal processes. Powick also said Endow had publicly refuted allegations that he had used the Deloitte name to sell the scheme.
Deloitte is one of the world's biggest accounting, auditing and consulting firms. One of its core services is detecting fraud and misbehaviour at companies and government agencies. Its employees must disclose their investments and business interests to avoid conflicts of interest and reputational issues.
Monday's hearing was told an internal investigation at Deloitte had found that Endow was offering investment opportunities "in a personal capacity" and 12 partners had chosen to invest using personal funds.
'You had 12 partners, you had the leadership of your organisation investing in this organisation, and you were paying no attention to its implications for the reputation of the firm. I'm shocked.'
The investigation found no evidence that partners had endorsed the scheme, or that there were any breaches of internal policies, Deloitte chair Tom Imbesi told the hearing.
Pocock said Australians deserved to know what happened within Deloitte regarding the personal investments by its leaders in an allegedly fraudulent investment scheme, given the firm accepts millions in public money for consultants.
"This is about probity. It's about management. It's about perceptions of conflict. It's a central line of investigation of our committee. So it's very important that we get on the public record what occurred here," she said.
"You have conducted an internal inquiry that has interviewed a dozen partners who participated in a scheme that has had serious consequences for many people around the world, especially in India, who have not recouped their funds … and that scheme goes to the nature of investment and the nature of the culture within the organisation. I think Australians have an expectation that there will be an open investigation and consequences."
Imbesi said that while there were still questions about Endow's conduct, Deloitte partners were free to choose how they invested their personal money, and he believed the systems it had in place were robust and did not need to be changed.
"We don't oversee or govern how individual partners invest their personal monies," he said.
Pocock replied: "Well I'm astonished by that answer. I think an organisation that's accepting a great deal of public money has a responsibility to manage its affairs transparently and with ethics. And I think that answer does not represent … in fact, I'm astonished by it, I have to say, does not represent a true protective guard for public interest, and certainly for real, strong shepherding of the financial resources that you've been given by the public.
"You had 12 partners, you had the leadership of your organisation investing in this organisation, and you were paying no attention to its implications for the reputation of the firm. I'm shocked."
Endow promised investors huge returns for lending him money. A 2019 pitch document said those who provided more than $250,000 were guaranteed returns of 39.02 per cent over six months. An updated 2022 document outlines returns of 29.19 per cent over six months on investments of $950,000 or more.
Several investors have made complaints of fraud to police in NSW and Victoria. Police in both states are investigating.
A Deloitte spokeswoman said on Monday that the firm's inquiries had looked at whether the partners had promoted or endorsed the scheme and whether any policies had been breached, but did not look into Endow or his actions "as he had already left the firm".
The Senate inquiry was set up following the PwC tax scandal, in which a partner marketed confidential information about government plans to combat tax avoidance to clients, along with other partners at the firm.
The Morning Edition newsletter is our guide to the day's most important and interesting stories, analysis and insights. Sign up here.
Most Viewed in Business
From our partners
Source: Read Full Article