Save articles for later
Add articles to your saved list and come back to them any time.
If you think it was hard to get a ticket to the FIFA Women's World Cup or a Taylor Swift concert in Australia, then get out the sleeping bag because hotels rooms have also been snapped up well in advance of the blockbuster events.
Incoming NSW tourism boss Stacey McBride said the World Cup, which packed more than 75,000 spectators into Stadium Australia for the Matildas' opening match against Ireland, has already created a surge in hotel bookings around western Sydney.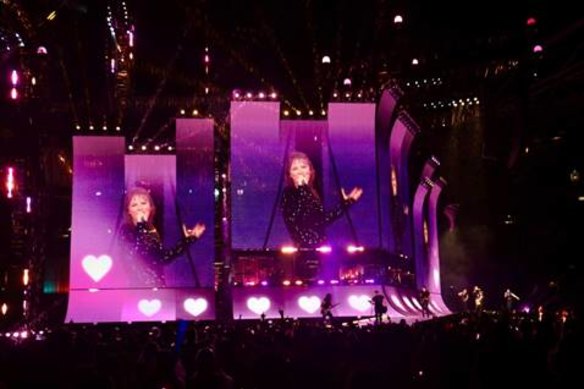 Taylor Swift performing to a capacity crowd at Accor Stadium in 2018.
"We are seeing a high number of bookings for accommodation providers located around Olympic Park and hotel capacity right across Sydney is nearing 70 per cent, reflecting a noticeable surge in demand," McBride said.
For the local hospitality industry, this would also mean an increase in local and international visitor spending, she said.
The hotel sector is one of the largest employers in the country, with more than 660,000 full-time and casual staff. It was decimated during the COVID-19 pandemic when domestic and international borders were closed. But as travel reaches pre-pandemic levels, the sector has bounced back with occupancy rates to about 80 per cent in Sydney and about 77 per cent in Melbourne.
Investors have also recognised the growth potential of the hotel sector. CBRE data shows that more than $1.2 billion in Australian hotel assets changed hands in the first six months of 2023 – bucking the trend of declining sales in the traditional office, industrial and retail sectors.
FIFA has said more than a million tickets have been sold for matches scheduled across Australia and New Zealand, with the opening match in Sydney moved from its original site at Sydney Football Stadium to Stadium Australia to allow for more spectators.
Sam Kerr and the Matildas at Marvel Stadium.Credit: Getty Images
"In addition to equalling the playing field in Australian sport, it means that first-class stadia in NSW and across Australia more often have the chance to host tens of thousands of fans from every corner of the globe to cheer on their teams – both in men's and women's sport," McBride said.
Accor operates hotels near Stadium Australia at Homebush, where the soccer kicked off and the US pop star will perform her Eras Tour. The group had a 180 per cent jump in room bookings over the dates of Swift's tour next February, compared with the same time this year.
The stadium's close proximity to our various hotels in the Sydney Olympic Park precinct has further fuelled interest in booking rooms.
Accor Pacific chief executive Sarah Derry said the stadium's proximity to its various hotels in the Sydney Olympic Park precinct had further fuelled interest in booking rooms.
Like Sydney, Accor's hotels in Melbourne have experienced a significant surge in bookings over Taylor Swift's Melbourne concert dates.
Derry said bookings at Accor's Melbourne hotels had increased almost tenfold during Taylor Swift's Melbourne concert dates, compared with the previous year.
InterContinental Hotel Group (IHG) has also seen demand for rooms for the soccer with rooms booked by the teams, sponsors, visitors and next year for Taylor Swift.
Dean Jones, IHG vice president of commercial in the region, said the Taylor Swift tour had been a big and welcome contributor to hotel bookings, and "we've seen occupancy levels as much as 70 per cent higher than non-tour dates across many of IHG's Sydney and Melbourne hotels".
He said dates around semis and finals, as well as when some of the big nations such the US, England and Australia play, had "an uplift of around 20 per cent on occupancy levels".
The Business Briefing newsletter delivers major stories, exclusive coverage and expert opinion. Sign up to get it every weekday morning.
Most Viewed in Business
From our partners
Source: Read Full Article