Catamaran, the family office of Infosys founder Narayana Murthy, is targeting 15 per cent returns on its portfolio investments per annum as it shifts focus from early-stage investments to growth and late-stage bets.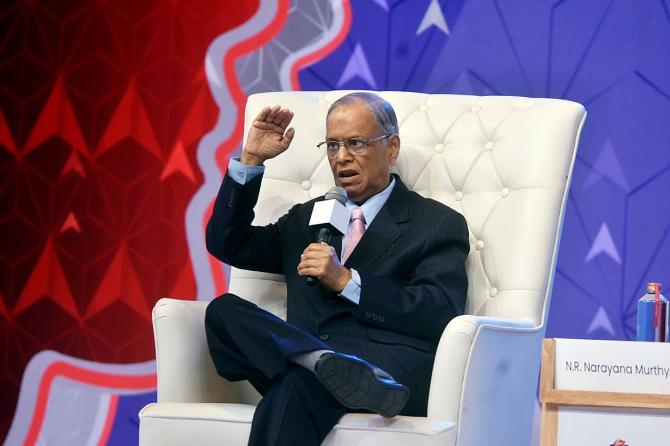 This would double the firm's assets under management (AUM) from the current $1 billion to $2 billion over the next five years.
"For direct investments, we are focusing on growth-stage investments and very selectively on early stage," Deepak Padaki, president, Catamaran, told Business Standard.
"(This is) primarily because the early-stage space in India, in the last three-four years, has completely changed.
"There has been a huge influx of capital in the last two years. It has become a very crowded space for early-stage investment," he said.
Padaki, who has been with Infosys for over 30 years, was appointed Catamaran's president in 2022.
The Bengaluru-based firm has a team size of 15.
"We are targeting all the asset classes, be it private or public markets.
"The focus right now in the private sector is to identify opportunities in the manufacturing realm," he added.
Amid an ongoing government push for manufacturing and increased investor interest for deeptech, the investment firm is betting big on these sectors to achieve its growth targets.
"Traditionally, manufacturing is not a sector that has seen much VC (venture capital) interest due to the long-gestation periods," said Padaki.
He added, "We must build the manufacturing ecosystem. Like IT services was one big wave in the past, the next big wave in India should come from manufacturing.
"An investment firm like us can better support that vision."
Within the manufacturing space, the firm will focus on sub-sectors such as electronic manufacturing supply chain, electric vehicle (EV) component supply chain and renewables.
"The manufacturing of tomorrow is a little different.
"There is a lot of technology usage and automation now, where we think we can leverage our technology ecosystem," he added.
Catamaran's deeptech bets will primarily focus on emerging technology, such as artificial intelligence (AI).
Padaki said, "AI has become a great leveller. The opportunity in AI and deeptech is huge because everybody is starting afresh.
"This has levelled the playing field for everyone. We will see a lot of good ideas emerging from this space."
These investments would be in series B and beyond rounds, where investments would be co-led alongside other backers.
Padaki said that each of Catamaran's bets will vary, depending on the opportunities presented.
"We do not compartmentalise our investments. We may invest anywhere from Rs 20-25 crore, all the way to Rs 400 crore, depending on the opportunity," he said.
"Unlike a traditional VC fund, there is no hard allocation.
"This gives us more flexibility to meet our objectives based on the actual opportunities."
The Bengaluru-based firm, which began its operations in 2009, previously entered into a joint venture with e-commerce major Amazon to run Prione Business Services.
Its wholly-owned subsidiary Cloudtail India was one of Amazon's largest sellers in the country.
The e-commerce major later bought out Catamaran's stake in the company in 2021.
Catamaran has backed promising start-ups across sectors like B2B platform Udaan, beverage brand Paper Boat, online learning marketplace Udemy, and video-sharing platforms Dailyhunt and Josh.
It has also taken bets in the likes of Elon Musk's SpaceX and the National Stock Exchange (NSE).
"Our focus on evaluating exit options has increased – whether in funds or companies. Also, we look for correct assessment of TAM (total addressable market) and differentiators in the offerings, avoiding a 'me-too' offering," said Padaki.
Family offices have increased their investments in the Indian start-up ecosystem over the past few years.
According to an empaxis report, India has close to 300 family offices, with an average AUM of $100 million.
Corporate governance, among its portfolio companies, has also been a priority for the Murthy-led firm.
While cases like BharatPe, GoMechanic, Trell, Zilingo, and most recently, Byju's, have led investors to start hedging their bets, conversations around proper governance among start-ups have been on the rise.
"It (corporate governance) has been at the forefront for us since the beginning.
"One of the things about family offices, in particular, is reputation protection.
"There is a strong focus on basic principles," said Padaki.
Whether it's a public or private company investment, Padaki added that Catamaran has a long check-list.
It includes related-party transactions, who the auditor is, who is on the board, and what is the risk governance, among other parameters.
"We have a wealth of experience within the team on operating in large companies, especially in later stages," he added.
Padaki's overall outlook towards the Indian start-up ecosystem remains positive.
"The momentum among early-stage start-ups is still high but things have changed.
"Entrepreneurs we are meeting nowadays are very different and many are first-time entrepreneurs.
"Many of the ideas we are seeing now are innovative and IP-based, unlike the previous traditional, business model-oriented ideas," he said.
He added, "These are across emerging sectors like biotech, AI and even manufacturing.
"How founders will be able to make these models profitable remains to be seen."
In the later stages, however, Padaki believes that there will be a shake up by the end of this year.
"Valuations of many late-stage companies have still not been fully corrected.
"Many companies raised a lot of money last year, but their success will depend on how wisely they use the money this year.
"If they consciously take a look at their cost structures, achieve profitability and product fit, they will survive," he added.
Source: Read Full Article