Save articles for later
Add articles to your saved list and come back to them any time.
The ABC has spent more than $700,000 in defamation settlements over the past three years, documents filed by the national broadcaster show, with total legal costs for proceedings reaching at least $1.94 million.
The documents were filed last week to federal parliament in response to Nationals senator Ross Cadell's questions, taken on notice by ABC managing director David Anderson during Senate estimates hearings in May.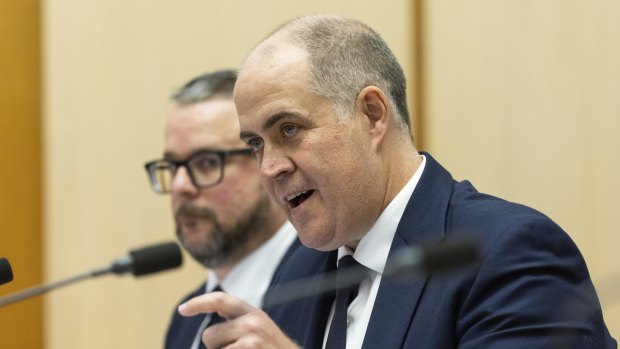 ABC Managing Director David Anderson (foreground) during a Senate estimates hearing in May.Credit: Alex Ellinghausen
Cadell asked Anderson to provide total legal costs of defamation – including court costs and settlements – for years when there were three or more settlements.
The ABC data shows legal settlements totalled $753,450: $414,000 in financial year 2021-22 and $339,450 in 2020-21. External costs in 2021-22, including legal fees, totalled $871,088, and $315,626 in 2020-21, bringing the total the ABC spent to $1.94 million on legal costs over the four years.
However, that figure is likely to be higher because the broadcaster was not required to disclose figures for 2021-22 and 2022-23 when there were fewer than three defamation cases relating to the ABC.
The ABC declined to comment when approached by this masthead.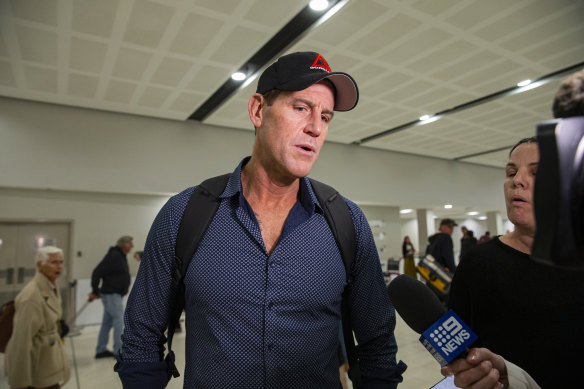 Legal costs in Ben Roberts-Smith's defamation action against Nine totalled $25 million.Credit: Ross Swanborough
In another question taken on notice, also answered last week, the ABC said it was currently party to four ongoing proceedings in Australian courts in which defamation is alleged.
Current cases include action brought forward by former platoon commander Heston Russell, who is suing the ABC for defamation over two articles published online in October 2020 and November 2021, and a related television broadcast.
Former federal Liberal political staffer Bruce Lehrmann also filed defamation proceedings against the ABC this year over its coverage of rape allegations made by his former colleague Brittany Higgins.
In October 2021, Anderson defended the decision to sign off on paying Four Corners journalist Louise Milligan's personal legal costs of about $200,000 after federal MP Andrew Laming sued her over a string of tweets.
Anderson said the legal fees totalled $700,000, acting on advice from the ABC's general counsel. "I will tell you that the advice when it came to accepting the offer of compromise was the total exposure to the ABC was in the order of some $700,000," he said.
Other settlements include a claim filed in September 2022 by Len Roberts over a program aired in 2021 titled Obeid Inc which linked Roberts, a First Nations person and a former councillor of the MidCoast Council, to a case relating to the Obeid family's role in property developments on the north coast of NSW.
In April this year, the ABC apologised to Len Roberts, stating that the program did "inadvertently make those allegations about Mr Roberts the ABC unreservedly withdraws them".
"The ABC apologises to Mr Roberts for any hurt or embarrassment caused by the publications."
Responding to another question from Cadell taken on notice, the ABC said the proceedings with Roberts have since been resolved to both parties' satisfaction on confidential terms.
Nine, the owner of The Age and The Sydney Morning Herald, successfully defended a defamation lawsuit in which Victorian Cross recipient Ben Roberts-Smith sued the publications along with The Canberra Times over six stories that alleged he was a murderer, war criminal, bully and domestic abuser, with legal costs totalling more than $25 million.
Nine is arguing that Seven Network (Operations) Ltd and Kerry Stokes' private company Australian Capital Equity should pay the costs of the defamation trial, which they bankrolled for Roberts-Smith under a loan agreement.
The Business Briefing newsletter delivers major stories, exclusive coverage and expert opinion. Sign up to get it every weekday morning.
Most Viewed in Business
From our partners
Source: Read Full Article