Save articles for later
Add articles to your saved list and come back to them any time.
Bank shareholders have been waiting a while for the other shoe to drop, anticipating lenders are about to be hit by a train of impaired loans. But Wednesday's Commonwealth Bank 2023 profit announcement showed it was little more than a fender bender.
This customer resilience helped CBA turn in a solid 6 per cent improvement in its full-year result to $10.2 billion, enough to shower shareholders with an increased dividend and a $1 billion share buyback.
CBA chief executive Matt Comyn delivered a solid result. Credit: Michael Quelch
The rapidly slowing economy and the cost-of living-crisis are certainly causing some pain in parts of the community, but CBA is weathering the situation nicely. The result was better than the market was expecting and sent the shares up 2.5 per cent.
The customer pain/shareholder gain debate is sure to get an airing again this week thanks to CBA's solid result. The Financial Services Union was the first to begin the stone throwing. The view from some sections of the community that banks are over-earning is a sensitive topic but one that CBA was armed to tackle, providing data showing its return on equity was higher 10 years ago.
Customers, be they business or retail, have shown astonishing resilience in the face of the 12 rapid-fire interest rate rises in just over a year.
The stress/resilience is not evenly distributed. The young, who are without savings, are doing it tough, while the over-60s, who are generally savings-rich and have no mortgage, are in the sweet spot.
The customer pain/shareholder gain debate is sure to get an airing again this week thanks to CBA's solid result.
Sure, CBA chief executive Matt Comyn is issuing all the caveats about the potential impact of a cohort of customers finding it tough, but significant borrower stress is not yet showing up in the numbers.
Comyn concedes mortgage stress will increase as this calendar year rolls on, and provisions have been topped up accordingly, but you get the feeling this is not what keeps him up at night.
Companies like to talk about earnings headwinds and tailwinds, and to date, defaulting borrowers is not a significant item on the headwind side of the ledger.
But competition between banks is a clear headwind. It has been a large contributor to the pressure on CBA's net interest margin and in turn profit.
Comyn says the level of competition (for borrowers and depositors) remains intense.
Additionally, the costs for banks borrowing in the wholesale market have increased.
While those cashback offers to entice borrowers have largely gone, less visible competition remains.
Mind you, the Australian Competition and Consumer Commission is less convinced.
"All the four majors are essentially the same, and they work on a 'live and let live' basis where they don't try too hard to compete, they all get a comfortable profit," ACCC deputy chair Mick Keogh said on Wednesday. "They all act pretty much in unison…"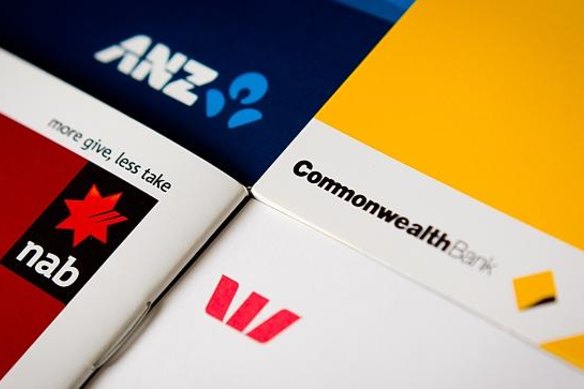 The ACCC does not believe there is enough competition in the banking sector.Credit: Bloomberg
Comyn, however, is not debating those analysts who are predicting the rest of the year will become more challenging for bank earnings. The results for the second half of 2023 were markedly weaker than the first half as margins were further crunched.
But any board that ticks off a share buyback and a higher dividend payout ratio is sending a message that it is not concerned about the strength of its franchise, the resilience of its earnings or the robustness of its balance sheet and capital position.
It seems CBA takes the view that we are close to reaching peak pain as an economy, and that there is a bit more visibility on what the future will look like.
It is a slightly optimistic outlier relative to other banks with its expectations that the rate rises are done and the economy will remain in growth (albeit sluggish growth) this year and next year.
While Comyn believes things will get worse before they get better, as the bulk of fixed-rate loans roll off in the remainder of this calendar year, immigration and strong employment will save us from the worst of the ravages.
The Business Briefing newsletter delivers major stories, exclusive coverage and expert opinion. Sign up to get it every weekday morning.
Most Viewed in Business
From our partners
Source: Read Full Article