Save articles for later
Add articles to your saved list and come back to them any time.
Small business owners are hesitant to throw support behind Prime Minister Anthony Albanese's proposal for a public holiday if the Matildas win the FIFA Women's World Cup, warning that high labour costs would make it difficult to justify staying open on the day.
Hospitality, retail and other workers must be paid penalty rates on public holidays that can vary depending on state and industry awards but are generally double or more the typical hourly wage.
Bourke Street Bakery co-founder David McGuinness says a surcharge is not enough to cover the extra expenses of operating on a public holiday.Credit: Marco Del Grande
"[Public] holidays cost us money," said Sydney bakery chain Bourke Street Bakery co-founder David McGuinness. "Even though we add 10 per cent to the bill … we still lose money on a public holiday."
Though many cafes and restaurants add a surcharge of 10 to 20 per cent on public holidays, it is not enough to offset the penalty rates, resulting in a loss-making day of trade. It means many opt to shut their doors.
However, Sydney specialty coffee roaster and cafe Single O, which typically gives staff a day off on public holidays, might make an exception. Single O general manager Michael Brabant said the cafe would consider opening its doors if the Matildas won.
"If it's a one-off, we'd love a celebration," Brabant said. "But if it's ongoing, I think that would put more pressure on us."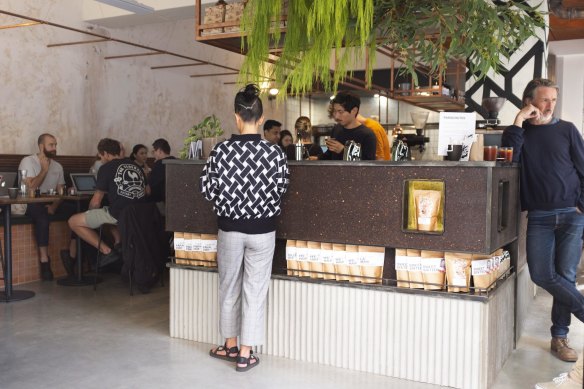 Single O cafe in Sydney's Surry Hills usually opts against opening on public holidays.
Albanese said he would float the idea of a public holiday with state premiers and territory chief ministers when they meet for national cabinet in Brisbane on Wednesday. NSW Premier Chris Minns has signalled support while Victorian Premier Daniel Andrews has not committed to anything yet. Nationals leader David Littleproud is against the proposal.
Brabant said the decision to stay open would also depend what day the public holiday fell on. Sunday usually commands higher pay rates of double-time-and-a-half.
"If they do achieve [a win], it would be historic. To celebrate something bringing everyone together is a good thing, we support that," Brabant said. "But it would mean a loss of business on that day, which does put pressure on our cafe partners."
Justin Cordes, the Montrose store director of Melbourne-based chocolate chain Hahndorf's Fine Chocolates, said a new public holiday would be difficult to plan around.
"Even [with] the [AFL] grand final holiday, we know it'll drop off in the afternoon, so you can roster accordingly," he said. "But when you put a new public holiday, which is going to fall in a different time, now you've got to start gathering data for that."
Cordes said the chocolate cafe imposed a 15 per cent surcharge on public holidays, which patrons were happy to pay.
"They still want to have the experience, the outing, and they still want the drink," he said. "There would probably be more backlash if you were closed.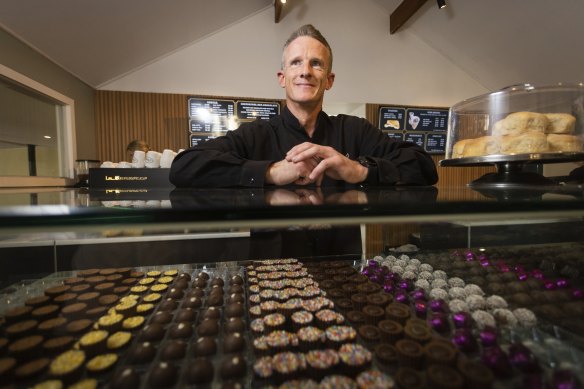 Hahndorf's Fine Chocolates Montrose store director Justin Cordes said a new public holiday would be difficult to plan around.Credit: Paul Jeffers
"It doesn't make a difference for me if we have a public holiday or not. But that doesn't mean we shouldn't win the World Cup."
If the Victorian government agrees to a public holiday, expect to find Melbourne beauty salon SOAK Bar + Beauty's doors closed.
"Look, I love Australia and I want the Matildas to win, but that does cost my business," owner Carlie Lansdown said. "Generally, we don't open public holidays because the wages are so impactful; there's almost no point in opening."
The one-off public holiday on September 22 last year to mark the death of Queen Elizabeth II was disruptive for Lansdown, who had to cancel and reschedule appointments. She said her revenue took a hit as a result.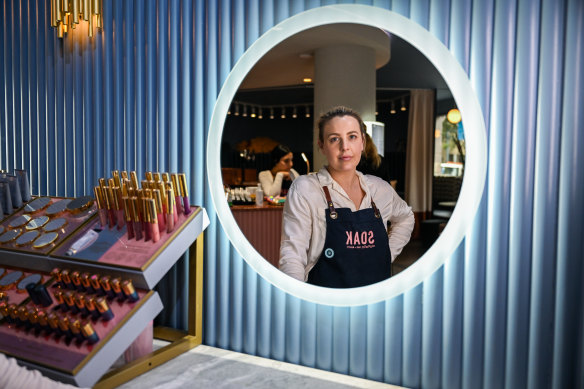 SOAK Bar + Beauty salon owner Carlie Lansdown's revenue took a hit on the public holiday to mark Queen Elizabeth II's death last year.Credit: Joe Armao
"We need every bit of income coming in, so we can just continue to grow and survive," she said. "We don't want to come across as not being supportive … I just can't [stay open that day] as a business because it's just not worth it."
Luke Achterstraat, chief executive of the Council of Small Business Organisations Australia, said small businesses were already feeling the effects of labour shortages, energy costs and higher interest rates.
"For politicians, [public holidays] are a paid day off, but the reality for a small business operator is just potentially a day of lost trading opportunity and lost income," he said.
"Small business is the most likely segment to sponsor local clubs and sporting clubs … So, it's a bit ironic that a public holiday is going to have a negative impact on a lot of these small businesses."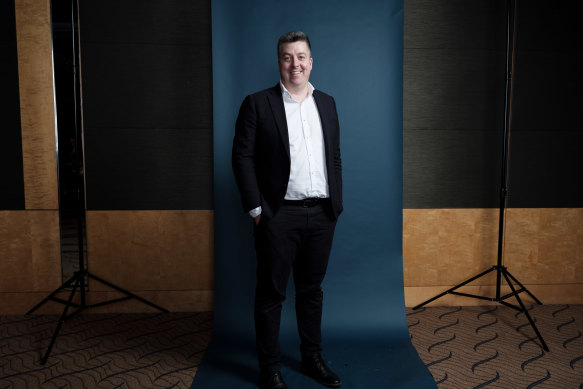 Luke Achterstraat, chief executive of the Council of Small Business Organisations Australia, said small businesses were already feeling the effects of labour shortages, energy costs and higher interest rates.Credit: Oscar Colman
Achterstraat said a public holiday proposal flew in the face of what small businesses needed most: government support.
"They're probably scratching their heads as to why a public holiday is necessary to have a celebration," he said.
Australian Retailers Association chief executive Paul Zahra said while Australia had a number of sport-based public holidays, implementing one at such short notice risked leaving many businesses out of pocket.
"Short-notice public holidays can have negative implications for the retail industry due to their impact on operations, staffing and overall business performance – particularly at a time when the industry is under significant pressure," he said.
Zahra said the achievements of the Matildas could be celebrated differently.
"While we appreciate the sentiment behind a public holiday, there may be better ways to celebrate the Matildas' accomplishments, such as a special event, parade, or festival," he said.
The Business Briefing newsletter delivers major stories, exclusive coverage and expert opinion. Sign up to get it every weekday morning.
Most Viewed in Business
From our partners
Source: Read Full Article