In the April-June quarter (Q1) of 2023-24 (FY24), growth in sales of FSN E-Commerce Ventures (the parent company of Nykaa) decelerated to 24 per cent year-on-year (Y-o-Y), and 9 per cent quarter-on-quarter (Q-o-Q), compared with 34 per cent in the previous quarter, due to a decline in the beauty & personal care (BPC) and fashion division's gross merchandise value (GMV).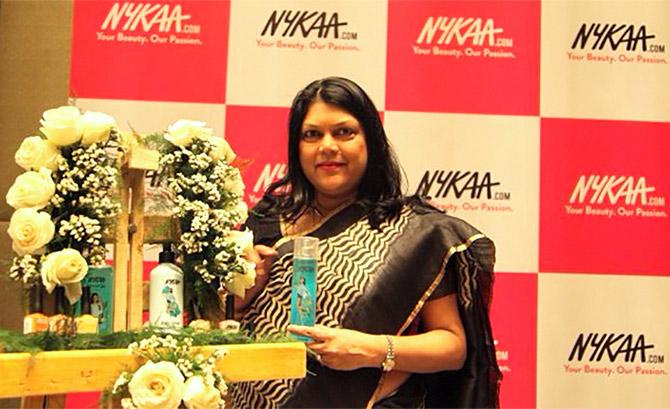 But Nykaa claimed it gained market share in both divisions.
The earnings before interest, taxes, depreciation, and amortisation (Ebitda) margin of 5.2 per cent expanded 120 basis points (bps) from a year earlier.
Fulfilment expenses as a percentage of sales reduced.
Revenue was driven by 19 per cent growth in BPC while fashion growth rate of 13 per cent was slower.
Sales growth was also lower on falling ad revenues, with lower spends by D2C (direct-to-consumer) brands due to disruptions caused by a change in ad platform.
The company is optimistic about growth in Q2, given strong July trends.
Analysts continue to see high long-term growth prospects in an under-penetrated e-commerce landscape.
The management is focused on high-margin categories like women's wear, bags, etc, and scaling up its own brands.
In BPC, which contributes approximately 70 per cent to the GMV, Nykaa expects growth to pick up.
The guidance for BPC indicates a further market-share gain with a growth rate 500-700 bps higher than the industry average.
Nykaa also has 10 offline fashion stores — six Nykd exclusive brand outlets and four multi-brand stores.
The company is comfortable in expanding its exclusive Nykd outlets and its own brand rollout.
Losses in the eB2B (online business-to-business) segment have dropped due to lower fulfilment costs.
But breakeven in eB2B could only come in a few years, with a long-term potential of 3-5 per cent Ebitda margin.
Expansion into the Gulf region through a joint venture may also stretch finances, though the region is potentially a large, rich market.
Overall, the Street was disappointed since revenue growth and Ebitda were below consensus, and gross margins declined to 43.5 per cent from 44 per cent in the previous quarter.
BPC margins rose by 65 bps but fashion and other segments saw a decline.
In the second half of FY24, and perhaps the second quarter too, the ad revenue should pick up and normalise and growth in fashion could be higher.
The company's average order value (AOV) for fashion grew Y-o-Y but declined Q–o-Q.
The premium fashion segment, which has high risk and high margin, remains in focus.
Net customer addition over the previous quarter was also disappointing, at just 300,000 in BPC and 100,000 in fashion.
Many analysts retain optimism about the prospects, despite earnings growth downgrades in FY24.
The fashion segment should start showing higher profitability, and this segment should contribute more to revenues.
The ad revenue dip is likely to be transitory due to the changes in the platform.
The focus on the owned-brands strategy should eventually drive higher margins and realisations.
The company has to watch out for slower than expected tech penetration, a rise in competitive intensity, and also regulatory risks such as changes in retail and e-commerce policies and expansion of the open network for digital commerce (ONDC), which may dilute its competitive power.
Nykaa also needs to scale up its fashion customer base quickly.
A faster than expected rise in tech-enabled transactions would be beneficial and Nykaa's owned brand strategy could mean significantly better profit margins.
There could be a significant upside in ad revenues if the tweaks to the platform lead to it becoming a market leader in terms of ads.
There's enough cash on the balance sheet to drive a sensible acquisitions strategy.
The stock is down 9 per cent since August 11, the day the company announced its Q1FY24 results.
Disclaimer: This article is meant for information purposes only. This article and information do not constitute a distribution, an endorsement, an investment advice, an offer to buy or sell or the solicitation of an offer to buy or sell any securities/schemes or any other financial products/investment products mentioned in this article to influence the opinion or behaviour of the investors/recipients.
Any use of the information/any investment and investment related decisions of the investors/recipients are at their sole discretion and risk. Any advice herein is made on a general basis and does not take into account the specific investment objectives of the specific person or group of persons. Opinions expressed herein are subject to change without notice.
Source: Read Full Article